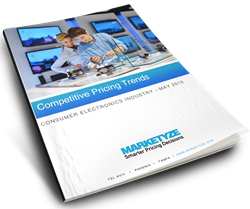 We are pleased to be providing retailers and industry analysts with our data-driven insights into the competitive pricing trends in the Consumer Electronics Industry.
Phoenix, AZ (PRWEB) May 12, 2015
Marketyze, a leader in retail pricing and promotion intelligence has released today the most recent in its ongoing series of Industry Analysis reports – this time focusing on consumer electronics.
The report uses Marketyze's real-time pricing data to analyze the price positioning and behavior of four leading retailers in the CE sector: BestBuy, Amazon, Walmart and Sears. Because marketplaces figure prominently in the consumer electronics vertical, the report also performs a comparison of four leading marketplaces: Amazon, Rakuten, Newegg and eBay.
The report highlights the competitive differentiation in the CE retail industry from leading retailers, and explains how agile competitors are challenging leading retailers, such as BestBuy. In this report, Marketyze analyzes the data gathered over the last two months in order to provide insights into the pricing strategies and impact of product segmentation on pricing strategies of CE retailers.
Marketyze CEO, Onn Manelson, said "We decided to focus this month's report on the consumer electronics sector because of its sheer size and dominance. In 2014 in the US alone $107 billion worth of CE goods were sold in brick-and-mortar stores, with an additional $66 billion sold online. In fact last year CE products accounted for 22% of all online commerce in the US. We are pleased to be providing retailers and industry analysts with our data-driven insights into the competitive pricing trends in this vertical."
To learn how retailers and marketplaces are competing in the CE vertical, you are invited to download a complimentary copy of the report.
About Marketyze
Marketyze provides advanced competitive pricing intelligence, inventory optimization, and merchandising solutions to help retailers, e-tailers, and manufacturers execute winning pricing and promotional strategies. Marketyze tracks and monitors millions of products in real-time via a cloud-based solution, providing actionable data to improve pricing and buying and assortment decisions.
Marketyze brings the experience of working with leading global retail partners such as BestBuy, eBay, Sears Canada, and Office Depot International to turn Big Data challenges into huge pricing opportunities. Marketyze was founded in 2011 by a group of seasoned e-commerce executives with deep domain expertise in semantic site search and online price comparison. Marketyze has offices in Tel Aviv, Israel, Phoenix, AZ, and Tampa, FL. For more information, please visit marketyze.com.