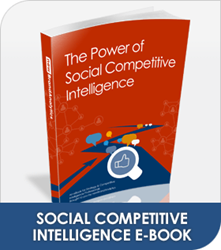 The Competitive Summit is a one-day event exploring the newest and best in competitive intelligence tools and tactics.
Washington, D.C. (PRWEB) August 21, 2013
newBrandAnalytics (nBA) CEO Kristin Muhlner will share new insights and best practices in social competitive intelligence (SCI) at The Competitive Summit, to be held Sept. 9 in New York City. The summit will feature a global audience of senior social media, marketing and communication professionals, including leaders from nBA clients such as BRGuest, Patina Restaurant Group and Le Pain Quotidien. The agenda will focus on how big brands, agencies and technology companies are harnessing the explosion of competitive business data to track, benchmark and improve their own marketing programs.
newBrandAnalytics provides business and social competitive intelligence tools to help leaders in retail, hospitality, food and beverage, and healthcare organizations win and keep market share. During the panel, "The Future of Competitive Intelligence," Muhlner will join other experts to discuss how marketers and customer experience professionals can use SCI to improve brand reputation, drive marketing strategies, perfect local consumer experiences, and understand how they stack up to competitors to help maximize strengths and fix weaknesses.
The Competitive Summit is a one-day deep dive into the intersection of digital marketing and competitive intelligence. Its agenda features a series of intimate talks and sessions from innovators at the forefront of marketing intelligence. For more information about the summit and tickets, visit http://competitivesummit.com. For more information about best practices in SCI, download the new Social Competitive Intelligence eBook from newBrandAnalytics.
What: The Competitive Summit: "The Future of Competitive Intelligence" Panel
When:
Monday, September 9, 2013, 9 a.m. to 6 p.m.
Where:
AOL Headquarters
770 Broadway
New York, NY 10003
Who:
Kristin Muhlner, CEO, newBrandAnalytics
Joe Payne, former CEO, Eloqua
Jon Brod, co-founder, Patch.com
About newBrandAnalytics
newBrandAnalytics delivers social intelligence that helps companies win – and keep – market share while improving overall operational performance. newBrandAnalytics' unique approach extracts targeted, local insights from volumes of unstructured social media data, pinpointing specific ways your company can meet and exceed customer expectations to create lifelong brand evangelists. The company serves clients across food and beverage, hospitality, retail, and government industries, including Five Guys, Hyatt, Hersha, Ruby Tuesday, Darden, Dick's Sporting Goods, the District of Columbia and many more. To learn more, please visit http://www.newbrandanalytics.com or @nBrandAnalytics.