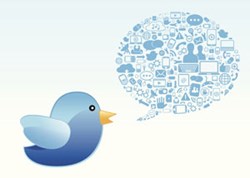 San Diego, CA (PRWEB) November 20, 2013
The outcome of a razor-thin race in the Virginia Attorney-General's race might be influenced by a Twitter follower who uncovered a "significant ballot discrepancy" days after the election. Some analysts even assert that Twitter can help predict an election. In a recent article for The Washington Post, Fabio Rojas, an associate professor of sociology at Indiana University, stated flatly, "Digital democracy is here." Rojas adds:

Since Twitter "discussions" can predict elections, soon Americans will choose their representatives via "digital democracy."
Online public information will replace the national polling industry.
Anyone who can write computer code is qualified to offer the same analysis as a trained pollster.
Not so fast, says John Nienstedt, Sr., President and CEO of Competitive Edge Communications and Research. He notes that the races Rojas included in his academic study were mostly non-competitive in reality.
"Included in his analysis were all House races where there were two candidates running, so a race pitting a heavy favorite against a long-shot equaled 'competitive' in Rojas's view," Nienstedt says. "Obviously, it's a lot easier to predict a winner when most races are foregone conclusions."
More importantly, this analysis was based on a model that included a host of other predictive variables. "All that means is that elections can accurately be predicted when a bunch of other variables that we know predict election outcomes are included in the equation," Nienstedt says.
Some observers contend that it is only a matter of time before Twitter (or some other social media outlet) achieves 80% coverage—at which point it would supposedly serve as a substitute for pre-election polling.
"But the main job of a campaign poll is not to predict the outcome of an election," Nienstedt says. "A campaign poll's main purpose is to provide strategic advice. That can't be done with variables coming from Twitter feeds."
About Competitive Edge
Competitive Edge Research & Communication is a San Diego-based consulting firm specializing in public opinion surveys and analysis, political polling, civic studies, and phone-based campaign services. Since 1987, Competitive Edge has provided clients with accurate survey research and campaign services, including designing sound research plans, collecting and analyzing accurate quantitative and qualitative data, providing clear strategic advice, and communicating with voters to identify their opinions and persuade them to take action. For more information, visit http://cerc.net.