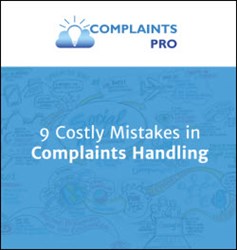 "A good complaints handling system also provides a platform to find and fix the root causes of product and service failures." -Rod Poynton, Quality Assurance Manager
San Francisco, CA (PRWEB) November 21, 2013
Complaints handling is an essential part of every consumer-focused business. Ignoring just one customer feedback can blow up quickly, impairing a company's performance. On the other hand, complaints are usually seen as something negative that should be minimized, however some of the most valuable sources of insights that allow companies to improve their products and services actually comes from customer complaints and customer feedback.
Despite this, many companies use outdated and inefficient processes to respond to unsatisfied customers. In their recent publication, "9 Costly Mistakes in Complaints Handling," Coretec Solutions compares these businesses to being stuck in the "horse-and-cart-era," and offers a list of guidelines to turn that "cart" into a revitalizing "Ferrari."
"Not only does a good complaints handling process allow your customers to give you valuable insight about your products and services", says Paul Evans, CEO of Coretec Solutions, the creators of Complaints Pro, "but it also provides a platform to find and fix the root causes of product and service failures."
Here are a few of those 9 mistakes that companies should avoid:
1. Poor operational and strategic visibility – Visibility means your internal processes, statistics and KPI's are easily available for decision-making. Every staff member handling complaints should have their own access to a dashboard in order to make informed decisions without having to rely on gut feeling.
2. Lack of organization-wide consolidated view of complaints – the complaints management team should know who is complaining about what, when and why. As such, it's not efficient to have several complaint databases from different sources. Businesses should keep all complaints in one central source, and also make sure these complaints are accurate so as not to waste any time.
3. No Key Performance Indicators to evaluate complaints handling performance – Without measures for success, how will a company measure if they're doing a good job? By establishing KPI's, a business can identify who they should congratulate for good performance, notice trends and seasonalities, and find and fix issues that were causing poor performance.
4. Not realizing the value of social customer service – Not using Twitter or Facebook to respond to customers makes a company lose important opportunities to showcase their customer-focused attitude. Migrating publically social conversations to private and formal complaint cases for the complaints team to investigate.
The full list of mistakes and how to overcome them can be found in the eBook 9 Costly Mistakes in Complaint Handling. The eBook is available for free.
__________________________________________________________________________
About Complaints Pro
Designed with social media and quality assurance in mind, Complaints Pro is a modern complaints handling system that addresses all nine of the costly mistakes straight out of the box. Request a free 30-day trial today and see it for yourself. For more detailed information about complaints management, turn to any one of our How-To Guides or check out: http://www.complaintspro.com.au.