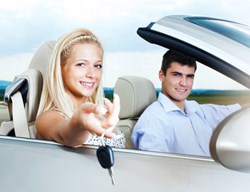 By following these steps, consumers will save both time and money - two of life's most valuable resources.
Seattle, WA (PRWEB) October 10, 2013
No one likes being swindled out of their money, especially when purchasing a major investment such as a car. But unfortunately, there are far too many auto dealers who would love to get a little extra profit off of each sale, so one has to be careful. And even in instances in which everybody is fair and upright, there are still ways to save money when making a vehicle purchase. Complete Auto Loans has provided auto buyers with a new educational infographic on how to avoid overspending. To view the infographic, visit their website at http://www.completeautoloans.com/how-to-get-ready-car-loan/.
The infographic in this article covers seven sequential steps to follow when buying a car. The first step simply involves running a credit report. By being issued a credit report, a buyer can have a firm understanding of what loan to look for right off the bat. Following this step is saving many people countless hours and extra money. Among other points, the article also discusses being wary of settling on monthly payments without substantial thought. "Don't get sucked into the monthly payment trap," it warns. "You must understand the total cost of the car loan and not what you can afford every month. Don't get sucked into a long term car loan with a vehicle you really won't want in five years. It's better to buy something a little cheaper if you're planning on just getting a vehicle for the short term. You should also expect to pay some sort of down-payment fees with your loan."
These two tips and five more are the topic of conversation in this new infographic. Following the infographic, the seven steps are also addressed in greater detail in text for those seriously considering a new vehicle. By following these steps, consumers will save both time and money - two of life's most valuable resources.
About Complete Auto Loans:
CAL provides bad credit auto loans online. Their unique finance platform can accept 100% of applicants, regardless of poor credit or even bankruptcy. By visiting their website, consumers are able to find the ideal loan for their personal financial situation, all through a quick and easy online process.
To apply for an auto loan, fill out their simple form at https://www.completeautoloans.com/apply-now2/.