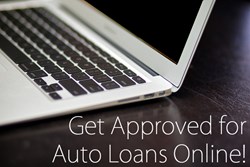 Without a doubt one of the best tools to use when shopping for a car is a car loan calculator.
Seattle, WA (PRWEB) November 07, 2013
Saving money is a priority for most people, and rightly so. When buying a new car, this is certainly true, considering the price of the car plus the interest cost of a loan. Complete Auto Loans is out to help consumers save money with quality loan options as well as with information and tips on their blog. One such post on their blog is a new article on using loan calculators to figure the cost of interest on a car. To read the complete publication, click here.
"Without a doubt," the article says, "One of the best tools to use when shopping for a car is a car loan calculator. A car loan payment calculator helps shoppers visualize what interest payments add up to over time, showing the differences between interest rates and the trade-off that consumers must make when selecting a loan with a lower down payment. Car loan calculators take all the guess-work out of auto financing, and they require little to know understanding of the complex mathematics behind loan payments."
The publication continues on to outline three of the popular loan calculators that deliver good results. These are the Edmunds Car Loan Estimator, the Bankrate Auto Calculator, and the Yahoo! Autos Monthly Loan Payment Calculator. Each calculator has specific advantages over the others, and each one is specifically helpful for different users. Details on each are provided in the full article. These tools are excellent for planning purposes, and it is recommended that car buyers use them before settling on a new car and loan.
About CAL:
Complete Auto Loans (CAL) is a national provider of car and auto financing. They provide loans to drivers with good credit, bad credit, and even no credit history at all, making them an easy solution for almost everyone. Their unique methods allow them to ensure high quality loans with good rates to over 98% of all applicants. As the #1 provider of local and national bad credit auto loans, they make everything easy for you. While providing applicants with the best lender network available, there's no need for drivers to keep waiting to buy a new car. Complete Auto Loans will never turn anyone down.
To apply for a loan today, simply fill out the application form here.