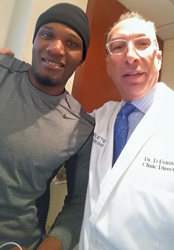 physical medicine, chiropractic and sports therapy..."a key decision"...which Lalonde Gordon claims "carried me across the finish line"
New York, NY (PRWEB) September 04, 2015
Lalonde Gordon ran a 44.64 seconds scorcher in the third and final men's 400 meters qualifying heat, and followed up with victory in the men's 400 meters final, with an impressive 44.89 seconds at the 2015 North American, Central American and Caribbean (NACAC) Senior Track and Field Championships in San Jose, Costa Rica in August 2015. The 44.64 time is a new NACAC Championship record.
Recent NACAC Gold Medalist and two-time 2012 Olympic Bronze Medalist Lalonde Gordon finds himself at the front of the pack crossing the finish line achieving even higher levels of success and ability. Gordon found himself feeling "physically fatigued" less than 2 years ago and chose to work with an integrative team of medical and wellness professionals to help restore his physical acumen to medal-winning proportions.
Choosing the guidance of Dr. Daniel Fenster, Clinical Director of Complete Wellness, Integrative Care Specialists, tackled his condition with a recipe of physical medicine, chiropractic and sports therapy. According to Gordon this was "a key decision", a move which he claims "carried me across the finish line" in both his health and career, as a now, champion runner.
While it took intensive training, discipline, and commitment his full recovery and ultimate return to the track, Gordon claims "helped him significantly" and set him poised for big finishes, which he has since achieved.
In the 2012 Olympics, Gordon took home the Bronze in two events including 44.52 finish in the Men's 400 meter as well as a stellar finish in the Men's 4 x 400 meter relay. Since his care began he, in total, went on to win more than a dozen victories including the Gold at the North American, Central American and Caribbean Championships.
As Dr. Fenster commented, "it gives my team great pride to help Lalonde not only in his personal victories, but enabling him to bring them home to Trinidad. It is so fulfilling to help bolster his physical ability but also his personal pride as well as that of his family and supporters who share in his victory. His victory is ours. We applaud him emphatically and share in his exuberance."
Dr. Fenster and his team at Complete Wellness practice located at 30 E 60th St in Manhattan care for many athletes both professional and amateur, in addition to anyone looking to improve their physical condition and in need of an integrative holistic approach.
Complete Wellness
30 E 60th St #302,
New York, NY 10022
http://completewellnessnyc.com
lisa(at)completewellnessnyc.com
https://twitter.com/compwellnessnyc
https://www.linkedin.com/in/completewellnessnyc
https://www.facebook.com/completewellnessnyc
https://plus.google.com/+Completewellnessnyc/