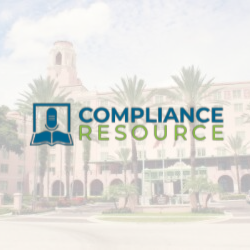 "We're offering the courses that every banker needs in a location everyone can enjoy," said Jack Holzknecht, CEO & Founder of Compliance Resource, LLC. "We hope our customers will take this as an opportunity to continue their education and to enjoy the Florida sunshine for a few days this winter."
LOUISVILLE, Ky. (PRWEB) August 14, 2019
Compliance Resource, LLC., a financial institution's one-stop-shop for all compliance needs, announced the offering of two new seminar programs. For the first time in the company's history, these courses will be offered in St. Petersburg, Florida at the beautiful Vinoy Renaissance Hotel on Jan. 7 - Jan. 8, 2020. Customers will also have the option to view these programs live via webinar.
2019 has been a busy year for compliance. Final regulations have taken effect and several very significant proposals are underway. As a new year begins, it makes sense for everyone to look back over the past 12 months to make sure nothing has been missed before launching into the new year.
"We're offering the courses that every banker needs in a location everyone can enjoy," said Jack Holzknecht, CEO & Founder of Compliance Resource, LLC. "We hope our customers will take this as an opportunity to continue their education and to enjoy the Florida sunshine for a few days this winter."
The annual "Lending Compliance Update" is the right program at the right time. The "Lending Compliance Update" program will allow bankers to review the past 12 months and prepare for the coming year. This full-day seminar will be conducted in Lexington, Kentucky on Dec. 16, 2019, and in St. Petersburg, Florida at the Vinoy Renaissance Hotel on Jan. 7, 2020. This program can also be viewed live online.
If your financial institution is subject to the Home Mortgage Disclosure Act, early January is when you get serious about scrubbing your 2019 data and preparing for the March 1 submission. The "Scrubbing and Submitting the 2019 HMDA Data" program, a two-hour seminar, will cover all the areas needed for successful data submission. The program will be conducted on Jan. 8, 2020, in St. Petersburg Florida, and a webinar option will also be made available. For these programs, customers can choose between viewing the seminar only, webinar only or a combined package.
Compliance Resource is also offering program attendees the opportunity to save over $300 by attending their free Compliance Masters Group (CMG) Preview Session. The CMG provides all the resources a financial institution needs for a strong compliance program: training, policies and procedures, news updates, answers to questions, and numerous other tools. This one-hour preview session includes a review of the Compliance Resource website and an explanation of CMG costs and benefits. Those who attend the preview session (live or online) will receive a 33% discount on either or both seminar/webinars (up to a $339.90 value).
In addition to receiving valuable continuing education hours from these courses, attendees of both the seminars and webinars will receive take-home training manuals, as well as a complimentary support service in which the experts at Compliance Resource will follow-up with any questions you may have in the days following the seminar. There are several significant advantages to attending one or both of the seminars in Florida, including the opportunity to network with other bankers, share expertise and discuss topics in-person with the entire Compliance Resource team.
"Our seminars and webinars always offer a strong value proposition," said Holzknecht. "We're looking forward to seeing how the January seminar is received by our customers, and we hope to continue to offer these advantageous programs in attractive locations."
Compliance Resource, LLC is a source of compliance assistance for financial institutions. Based in Louisville, Kentucky, the company was founded in 2001 after CEO, Jack Holzknecht, saw a need for financial consulting. Today, Compliance Resource's mission is to give financial institutions all the tools and resources needed to comply with ever-changing laws and regulations. For more information, visit http://www.jackscomplianceresource.com.
Media Contact:
Ashley Shadburne, Director of Marketing
ashley@hatfieldmedia.com
hatfieldmedia.com