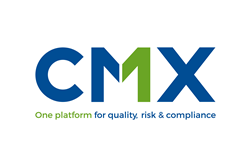 "To build and maintain customer trust you need to execute with quality and consistency across every facet of your business. We see it as a continuum starting in the supply chain all the way to the in-store experience." -- Mitch Porche, CMX CEO
SAN DIEGO (PRWEB) August 20, 2019
CMX (ComplianceMetrix), a leading provider of Enterprise Quality Management Solutions (EQMS) for supply chain management and operations, today announced the launch of new company and product branding to align with its focus on managing all aspects of quality, risk, and compliance for businesses of all sizes. Under the rebranding, ComplianceMetrix becomes CMX and its flagship EQMS platform will now be called CMX1.
"In the decade since we launched ComplianceMetrix, a lot has changed. Ultimately it is about the outcome of helping our clients build lasting trust with their own customers. Whether you are a small regional or global brand, to build and maintain customer trust you need to execute with quality and consistency across every facet of your business. We see it as a continuum starting in the supply chain all the way to the in-store experience," said Mitch Porche, CMX CEO. "CMX1 is designed to ensure everything behind the scenes is done with excellence so that the customer experience can be remarkable."
"What was once a solution solely focused on auditing and compliance has now grown into an enterprise platform that enables companies of all sizes to gain control and transparency over their supply chains, deliver quality products and services, ensure compliance and drive performance across their stores, restaurants and facilities. The change in company branding and naming of our platform is recognition of that transformation and reflective of how our clients think of our solution -- it is truly a single platform for achieving and maintaining quality and operational excellence," said Jim Hardeman, CMX CPO and Director of Marketing.
You can visit CMX's new website to learn more at at http://www.cmx1.com.
About CMX
Leading brands including Burger King, Taco Bell, Sonic Drive-In, RaceTrac, and Hasbro trust CMX's cloud-based Enterprise Quality Management Software (EQMS) to help them achieve and maintain Operational and Quality Excellence. For over a decade, CMX has led the market with the most comprehensive, user-friendly, cloud-based EQMS platform for food and consumer brands. It's the only enterprise solution to effectively combine supply chain quality and operational excellence into a single, fully configurable operating platform.
For more information please visit http://www.cmx1.com or call 1-858-866-8888.