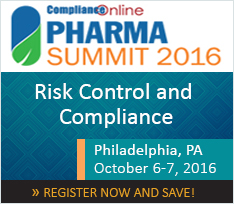 Course "ComplianceOnline Pharma Summit 2016 – Risk Control and Compliance" has been pre-approved by RAPS as eligible for up to 12 credits towards a participant's RAC recertification upon full completion
Philadelphia, PA (PRWEB) June 06, 2016
ComplianceOnline, the leading governance, risk and compliance advisory network with over 1,000 experts in various regulatory subjects will host pharma summit on October 6 and 7, 2016 in Philadelphia, PA. The two day summit will provide a venue for industry experts, policymakers, manufacturers, inventors and clinician to discuss and debate these challenges as well as explore new strategies and opportunities for growth. This event therefore gives professionals – whether they are new entrants in the field or middle management or veterans – to interact with the leading minds in the industry about the current state of laws and technology and government oversight and more.
The panel discussions, debates, workshops and exhibitions will also throw light on the direction the industry will take in the future – making it all the more important for today's pharma professionals to actively take part in this Summit.
Attending this Pharma Summit will help participants understand:

Future of Healthcare, NOT Embodied by Government Reform
FDA's View on Domestic Manufacture of APIs in the Country
Quality System Management and Changing Regulations
Returning the FDA to Its Proper Role in the Medical Ecosystem
How Does the FDA Monitor Off Label Drug Administration
Clinical Trials--Assessing Safety and Efficacy for Diverse Populations
FDA Approval Licensing Process for Products Containing Novel Adjuvant
FCPA and Internal Control Issues Across Pharmaceutical Industry
Drugs Patent & Trademark
FDA Quality Metrics Update
Assay Modernization for Legacy Biologics – Good for Industry, Regulators and Public Health
Drug Safety Regulatory Update and Outlook
Evolving Payment Models and Regulatory Consideration
Featured speakers invited so far:
FDA Professionals
Robert Popovian, Sr. Director, US Government Relations, Pfizer Pharmaceuticals
Rick Williams, (Partner, Newport Board Group New England Practice, Chairman of Point Care Technology, Board Member of Amorphex Therapeutics)
John Kelly E, Healthcare, Compliance and Government Investigations Attorney, Bass, Berry & Sims
Josh Stein, CEO & CO Founder, AdhereTech
Darin Oppenheimer, (Regulatory Affairs Expert, Global Medical Product Regulations & Licensure Authority, Strategic & Engaging Leader, Baxter Healthcare Corporation)
Tom Loker, (Businessman | Author | Speaker, Startup Consultant and Advisor SYDK.ORG, Contributor to California Political Review)
Terri Jollymour, Senior Director, Corporate Q&C Strategy, Operations Readiness & Convergence, Johnson & Johnson
Dr. Ron Weissman, (Chairman, Software SIG, Band of Angels)
Nikolaos Tezapsidis, PhD, President & CEO, Neurotez, Inc
Mark Faupel, CEO, Guided Therapeutics inc.
Rajesh K. Gupta, Visionary Scientific & Compliance Consultant, Biologics Quality & Regulatory Consultants, LLC (Ex-FDA Official)
The event serve as an integrated platform for exclusive business opportunities for pharma and biotech companies – stalls will be available for organizations to exhibit their latest products and technological innovations. From a marketing and branding perspective too, the event will provide a conducive environment for both established as well as up-and-coming pharma/biotech companies and their suppliers.
When & Where:
Date: Thursday, October 6, 2016, Friday, October 7, 2016, 8.30 AM- 5.00 PM
Venue & Location: Philadelphia, PA
Registration Cost: $799.00 per registration
Early Bird Discounts: For discounts on early registrations, please visit Pharma Summit 2016.
Register by Phone: Please call our customer service specialists at +1-650-620-3915 or email to customercare(at)complianceonline(dot)com
Note: Get 10% Discount, Use Promo Code - 232082
About ComplianceOnline
ComplianceOnline is a leading provider of regulatory compliance trainings for companies and professionals in regulated industries. ComplianceOnline has successfully trained over 45,000 professionals from 9,000 companies to comply with the requirements of regulatory agencies. ComplianceOnline is headquartered in Palo Alto, California and can be reached at http://www.complianceonline.com. ComplianceOnline is a MetricStream portal. MetricStream (http://www.metricstream.com/) is a market leader in enterprise-wide Governance, Risk, Compliance (GRC) and Quality Management Solutions for global corporations.
For more information please contact:
A Reuben Bernard
Associate Director
ComplianceOnline
2600 E Bayshore Rd
Palo Alto CA USA 94303
Phone: +1-650-620-3915
Toll Free: +1-888-717-2436
Fax: +1-650-963-2556
reuben(at)complianceonline(at)com
www(dot)complianceonline(dot)com