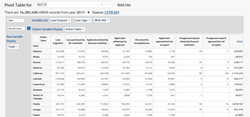 Users have commented that it is the first time HMDA data are easily accessible, digestible and usable for their research efforts.
MCLEAN, Va. (PRWEB) March 04, 2019
ComplianceTech, McLean, VA, announces a new data analysis tool to its free website, LendingPatterns Lite™ by offering multi-dimensional displays of mortgage lending data. ComplianceTech is pleased to announce a new feature that allows users to automate the summarization and analysis of HMDA data in order to uncover useful, comparative insights. A powerful new pivot table option is now available to allow registered users to experience interactive access and to easily visualize insights of market trends by geography, mortgage application characteristics and lending application outcomes. The source data for the site is made possible by the CFPB's open source Application Programming Interface (API). The CFPB encourages software developers like ComplianceTech to tap into the HMDA data stored and served by Qu, a public API for serving the Bureau's public data sets to bring the Bureau's data into applications like http://www.LendingPatternsLite.com.
In May 2018, ComplianceTech announced LendingPatterns Lite™, a free website derived from its highly popular LendingPatterns ™ Pro paid subscription application. "This site is designed to serve anyone with a need to know more about mortgage lending in America. ComplianceTech believes it has a corporate responsibility to educate institutions and individual members of the public about the value of HMDA data and the potential stories it can tell. Since the launch of LendingPatterns Lite, we've continued to see growing interest in the website. Users have commented that it is the first time HMDA data are easily accessible, digestible and usable for their research efforts. The pivot table feature is another enhancement to allow users to slice and dice the data to better understand market trends by loan type, loan purpose and the underwriting action taken in various geographies," says Mike Taliefero, Managing Director for ComplianceTech.
ComplianceTech's vision for LendingPatterns Lite is to make the power of the Home Mortgage Disclosure Act (HMDA) data accessible to everyone, anytime, on an easy to use intuitive website. To gain access to the tool, and to get more information, go to LendingPatternsLite.com. A free registration to LendingPatterns Lite™ provides charts, downloadable PDFs, and the ability to export data in spreadsheet format. LendingPatterns Lite™ aims to be the leading public source for lending and demographic data.
ComplianceTech, founded in 1992 and headquartered in McLean, Virginia, is a leading provider of software and services to make fair and responsible lending easier. The company's popular software products include LendingPatterns™ and Fair Lending Magic™. We aspire to be a valued resource of insightful information, education, and innovative technology for HMDA, fair lending and CRA analysis.
For more information, contact ComplianceTech at info(at)compliancetech(dot)com