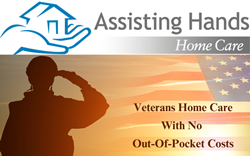 Millions of America's senior citizens are veterans or surviving spouses of veterans. As these heroes age, home is where they want to spend their senior years—surrounded by their favorite people and familiar things. We are here to help!
MANSFIELD, Texas (PRWEB) May 26, 2023
Assisting Hands Home Care provides specialized veteran home care services to support elderly veterans who may face unique challenges as they age, including physical and mental health conditions that can make it difficult to perform daily tasks.
The veteran home care services offered by Assisting Hands Home Care are designed to provide compassionate and personalized care to meet the specific needs of each individual veteran.
Assisting Hands Home Care is committed to providing the highest quality senior in-home care to its veteran clients. Caregivers are trained to provide assistance with activities of daily living, such as bathing, dressing, grooming, and meal preparation, as well as companionship services to help alleviate loneliness and provide emotional support. Additionally, they are experienced, compassionate, and dedicated to meeting the unique needs of each individual veteran. The company offers flexible scheduling to ensure that clients receive the care they need when they need it.
Non-medical veteran home health care is provided by Assisting Hands Home Care in Mansfield, TX, and the surrounding areas for veterans and their spouses who are eligible for VA benefits. Assisting Hands licensed caregivers will provide veterans with high-quality in-home care who will take the time to learn about your requirements and treat you with kindness and respect.
Assisting Hands will collaborate with veterans and their families to assess their care requirements and figure out how your VA benefits can cover the cost of home care.
Assisting Hands Home Care will begin with a complimentary in-home evaluation to analyze your care needs and VA benefits to see how they can be used for home care. If you are a veteran or the spouse of a veteran and are qualified for a VA pension, Assisting Hands Home Care is ready to help you to understand how your VA benefits can be applied to our veteran home care programs.
.