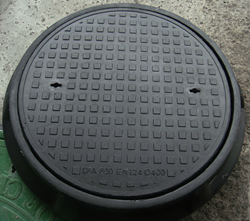 Do you want to get a sample for composite manhole cover like this? Please contact with BRISCOVER now!
Changsha, HN, China (PRWEB) April 22, 2014
Briscover.com from Hunan Common Future Arts and Crafts Corp. Ltd. is now offering a professionally manufactured composite manhole for to all new customers. The company that manufactures 100% composite material manholes now exports its manhole covers to the USA, Europe, the Middle East, and more.
Hunan Common Future Arts and Crafts Corp. Ltd., the leader in manufacturing FRP/GRP manholes that are made of 100% composite material in China, announces its website http://www.briscover.com where customers can now get a free manhole cover. The covers are manufactured to EN124 standards and now can be shipped to many countries around the world.
"Our Composite Manhole Covers can be used in various applications such as inspection chambers for sewerage, underground Electrical Cabling, Telecom Cabling, Water, Gas and Petroleum Installations, Beautification of Gardens and Landscapes. Composite Gratings can be used for roadside water entrance chambers, roadside gratings and also road crossover gratings which can take the load of urban traffic," says Rock Yuan Export Manager for Hunan Common Future Arts and Crafts Corp. Ltd.
The composite manhole covers from Briscover.com:
-The fiberglass manhole covers are strictly manufactured according to ISO9001:2000.
-100% waterproof, weatherproof, corrosion free material for all GRP manhole covers.
-Contain zero metal.
-High load capacity for all FRP/GRP covers, it can be used in all kinds of road according to its load ability.
-All fiberglass sewer covers have very long service life and can last at least 30 years.
-The FRP or the GRP covers can come in decorative surface designs even with company logo and different granite finishes.
-Good temperature resistance from -40°c to 80°c Centigrade.
-All of composite manhole covers are tested and approved by SGS and are manufactured according to BS-EN124.
"If you are looking for good quality composite manhole covers that will last a long time, we are your sole choice in China. Don't buy BMC manhole covers because of its bad quality with low load ability. If you are willing to pay more money, you can buy SMC manhole covers."
Potential customers can go to BRISCOVER factory web, and check out all the information about the manholes available from Hunan Common Future Arts and Crafts Corp. Ltd., and get a free manhole cover. The website contains information about manholes in general and customers can download the manhole cover installation manual and catalogue.