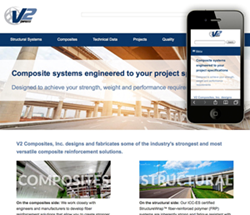 We pride ourselves on the customer support we provide on a daily basis and wanted our website to reflect a similar standard of service
Auburn, AL (PRWEB) December 07, 2015
2 Composites, Inc. recently launched a new corporate website – http://www.v2composites.com - featuring a refreshed design that provides quick and easy access to information on their high-performance fiber-reinforced polymer (FRP) systems used in both structural and composite reinforcement applications. The new website highlights the two divisions within V2 – structural and composite reinforcement, providing visitors with a clearly defined path to the information they are seeking.
V2's StructureWrap™ composite systems and products are used for a variety of applications, which are each detailed on their own page. In addition to the comprehensive product and system information, the pages also feature an information request form that can be used to quickly and easily submit questions and comments. The composites section of the website is similar in that the versatile line of composites products are each detailed on their own page.
"The new website was truly designed with the customer in mind. The last thing we want is for our customers to be frustrated when they can't find the information they are looking for. We pride ourselves on the customer support we provide on a daily basis and wanted our website to reflect a similar standard of service," said Kevin Horne, president of V2 Composites.
There is also a project section dedicated to showcasing V2's wide range of capabilities and expansive project experience. The new site is mobile friendly, allowing engineers and contractors access to V2 resources from tablets and phones in the field.
V2 Composites, Inc. designs and fabricates some of the industry's strongest and most versatile composite reinforcement solutions, providing superior strength and flexibility vital in the construction of FRP components used in bridges, high-rise buildings, airplanes, boats and various other applications. V2 uses a unique stitch-bonded, multiaxial construction in the manufacture of their non-crimp reinforcement fabrics and FRP components, leading to maximum strength and unparalleled structural integrity. Through innovative technology and improved manufacturing processes, V2 offers cost-effective, custom-stitched composite solutions tailored to achieve the unique performance requirements of every project. V2 Composites, headquartered in Auburn, Ala., is an ISO 9001:2008 certified company.
For more information, visit http://www.v2composites.com or call 334.502.3000.