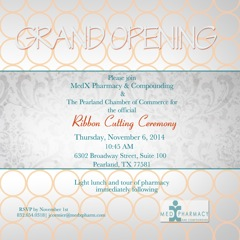 Sugar Land, TX (PRWEB) November 03, 2014
MedX Pharmacy is proud to announce that they are opening a new pharmacy in Pearland, TX. The grand opening event and ribbon-cutting ceremony will take place at 10:45 a.m. on Thursday, Nov. 6. The new pharmacy will help MedX manage existing and new customer needs more efficiently. The larger space is more accommodating for the growing demand of MedX's prescription and compounding services as well as a select supply of durable medical equipment.
MedX Pharmacy, along with the Pearland Chamber of Commerce, is inviting everyone to join them for this exciting grand opening event. The new pharmacy will be located at 6302 Broadway, Pearland, TX 77581. Immediately following the ribbon-cutting ceremony, there will be a light lunch and a tour of the new pharmacy. Those interested in attending the event should RSVP by Nov. 1 by calling 832-654-0319 or emailing jcormier(at)medxpharm(dot)com.
Winter is coming, and with it colder temperatures. The drop in temperatures increases the threat of respiratory issues, especially in young children. MedX Pharmacy has everything people need to prepare for the cold winter months ahead. They offer a wide selection of OTC medication and vitamin C products to help boost the immune system to effectively fight off harmful respiratory germs. Stop in to the nearest store today to find everything needed for the coming winter season.
For more information about MedX Pharmacy, visit their website at http://www.medxpharm.com/.
About the company:
MedX Pharmacy is a patient-centered compounding pharmacy that pays the utmost attention to the needs of patients. Their mission is to provide the best possible pharmacy experience through friendly pharmacists, state-of-the-art facilities and quality products. The core of MedX Pharmacy is the quality services and products they have been working hard to produce for their valued customers. In helping patients during recovery from an illness or getting better after a surgery, they have been using their resources to develop highly-reliable products that will meet patients' ever-changing needs. MedX Pharmacy offers prescription delivery for patients. For more information, visit http://www.medxpharm.com/.