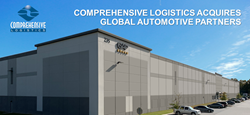 CEO Brad Constantini states, "CLI is one of the few private companies that have more than 100 years of supply chain execution experience and have thrived through industry changes to build upon my family's legacy – this makes me immensely proud."
BONITA SPRINGS, Fla. (PRWEB) August 05, 2021
Comprehensive Logistics (CLI) strategically expands the business through the acquisition of Global Automotive Partners, Inc. (GAP), North America Division.
With GAP, CLI adds new sites in South Carolina and Alabama which increases CLI's total warehousing space to more than 5 million square feet, over 3,000 employees and increases revenues by more than 10%. In addition, GAP adds to CLI's customer portfolio foreign original equipment manufacturers (OEMs) which is a key aspect of CLI's growth plan and affirms market recognition of CLI and GAP's engineering design capabilities and value-added service best practices.
CLI has had exceptional financial performance since its founding, with consistent year-over-year revenue growth providing CLI stakeholders and financial partners a solid balance sheet for continued organic growth. In addition, CLI has solid capital partnerships to further invest in business growth, continuous improvement, and innovation in the areas of automation, IT and business intelligence. CLI's asset-light structure reduces risks and ensures that investment in resources is applied in the customer's, employee's, and stakeholder's best interests.
As a family-owned fourth-generation business, CLI provides an extension of plant and dedicated transport services to the top domestic and foreign branded OEMs within the automotive, heavy-duty truck, appliance and other industries. Brad Constantini, CEO, shares, "Our corporate leadership, engineering and launch teams need to be agile to preserve our competitive advantage. We are strategically positioned within close proximity of our customer locations to increase efficiency. CLI is one of the few private companies that have more than 100 years of supply chain execution experience and have thrived through industry changes to build upon my family's legacy – this makes me immensely proud."
To best manage the organic and acquisition growth throughout the Southeastern United States, CLI has strategically realigned corporate resources and facilities. This realignment enhances CLI's corporate service functions, where engineering, quality and operational talent acquisition support the geography and strategy of new customer acquisition.
The Engineering Center along with select corporate services remain in the founding city of Youngstown, Ohio, while CLI's corporate headquarters is in Bonita Springs, Florida. The new structure allows the company to expand corporate recruiting reach and attract the industries top logistics talent.
About Comprehensive Logistics, Co., Inc.
Comprehensive Logistics (CLI) partners with customers to design and execute third party logistics (3PL) outsourced warehousing solutions. Services include subassembly, kitting, value-add, warehouse management and dedicated shuttle, short-haul transportation and yard management. All productivity, processes and inventory are controlled through a best-in-class proprietary Warehouse Management System, called STREME. Real-time performance metrics and stock level visibility, including notification alerts, are available on the customer's mobile devices.
As millions of automotive, consumer products and service parts flow through the 20+ facilities in 17 states/provinces throughout North America, CLI's 3,000+ employees follow the highly engineered processes and customized solutions, incorporating structured control methodologies, quality management systems, uniform operating procedures with strict safety protocols. Industrially diverse original equipment manufacturers (OEMs) and their suppliers have come to trust CLI to perform just-in-time value-added services that are integral to the quality and timely final assembly of their products.