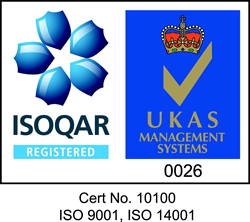 We're sharing this experience with our clients when planning projects and they are also seeing the benefits
(PRWEB UK) 24 February 2015
Having already achieved ISO 9001, the company that provides compressed air solutions for some of the world's leading manufacturing industries is now fully endorsed with the internationally accepted ISO 14001 accreditation.
With increased scrutiny of industrial impact on the environment, this latest accreditation will enable AFS to identify and control these levels for both their own business and for clients.
ISO 14001 is a framework that allows businesses to build an effective environment management policy around, whilst remaining commercially successful.
Commenting on this latest accolade, Operations Manager Maxine Leach MBA, Cmgr said "Our existing accreditation's for Achilles, F-Gas and SafeContractor, have emphasised the benefits of ISO 14001 and we have responded accordingly. We have fully embraced its core objectives to drive our business forward."
Adding...
"Working in this framework has already enabled us to identify significant reductions in our waste and energy consumption costs. We're sharing this experience with our clients when planning projects and they are also seeing the benefits."
AFS has a thriving reputation for delivering operational cost savings to clients manufacturing processes. By embracing the ISO 14001 framework in their innovative service range – which include compressed air systems, nitrogen generation, liquid and chemical filtration – AFS are expecting to add even more value to their clients projects.
Notes to Editors
AFS are a market leader, delivering cutting edge solutions to global manufacturing industries.
A highly innovative company, they constantly strive to deliver the most efficient and effective manufacturing process solutions to the worlds leading brands.
Their proven experience and high standards ensure they constantly exceed expectations. AFS pride themselves on building strong business partnerships, achieving this, offering the highest standards of technical expertise, advice, professionalism and support.
AFS are rapidly gaining a reputation for providing a unique combination of customer focused service and advanced product specification. They develop specifically engineered solutions based upon individual customer process requirements. This approach ensures customers always optimise their performance and production requirements.
As an independent company AFS are able to source the most innovative and effective solutions for their customers. This means they can always offer the most efficient and technologically advanced equipment available in the market place.
Services include:
Compressed air systems and management
Nitrogen generation
Liquid and chemical filtration
Turn-key packages
Fields service and support
Workshop in-house facilities
Audits and validations
AFS Ltd
Unit 3, Ordinal Street,
Trafford Park
Manchester-based
M17 1GB
Tel: 0845 872 2222
Email: info(at)afs-limited(dot)com
Web: http://www.afs-limited.com/