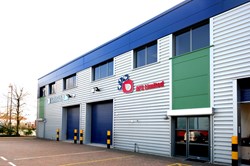 When we achieve this new standard it will be another string to our bow as we work towards a greener future.
Manchester, UK (PRWEB UK) 31 October 2013
Having already achieved ISO 9001, the company that provides compressed air solutions for some of the world's leading manufacturing industries is now working towards ISO 14001.
With increased scrutiny of industrial impact on the environment the higher accreditation will help AFS to identify and control these levels for both their own business and for clients.
ISO 14001, says AFS Managing Director Andrew Ryan, does not impose requirements for environmental performance but it examines whether a business can introduce the right framework to set up an effective environmental management system.
"When we achieve this new standard it will be another string to our bow as we work towards a greener future," he says.
At the forefront will be a new specialist member of AFS's Trafford Park team. David Fensome – who offers specialist direction to clients on energy and environmental management - has 30 years of distribution and manufacturing experience in the compressed air industry since graduating in engineering.
The growing AFS name for innovative services – which includes compressed air systems, nitrogen generation, liquid and chemical filtration – has also stepped up its high customer service level by fully training all its service engineers in the use of the new CompAir Online Service Module.
Equipped with this latest mobile technology they are now able to use quick response codes to boost all CompAir servicing as well as being able to view key information about CompAir products.
Putting this key information at their fingertips means that service engineers can now make vital decisions quickly and efficiently to minimise a problem or, in the worst case, considerably reduce production down time.
More about AFS Ltd
AFS are a market leader, delivering cutting edge solutions to global manufacturing industries.
A highly innovative company, they constantly strive to deliver the most efficient and effective manufacturing process solutions to the worlds leading brands.
Their proven experience and high standards ensure they constantly exceed expectations. AFS pride themselves on building strong business partnerships, achieving this, offering the highest standards of technical expertise, advice, professionalism and support.
AFS are rapidly gaining a reputation for providing a unique combination of customer focused service and advanced product specification. They develop specifically engineered solutions based upon individual customer process requirements. This approach ensures customers always optimise their performance and production requirements.
As an independent company AFS are able to source the most innovative and effective solutions for their customers. This means they can always offer the most efficient and technologically advanced equipment available in the market place.
Services include:
Compressed air systems and management
Nitrogen generation
Liquid and chemical filtration
Turn-key packages
Fields service and support
Workshop in-house facilities
Audits and validations
AFS Ltd
Unit 3, Ordinal Street,
Trafford Park
Manchester-based
M17 1GB
Tel: 0845 872 2222
Email: info(at)afs-limited(dot)com
Web: http://www.afs-limited.com/