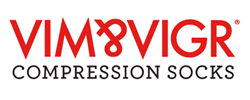 The men's debut line will feature new designs including argyle and stripe patterns, incorporating natural fibers that make the socks comfortable for all-day, every day wear
New York, NY (PRWEB) November 27, 2014
The founders of VIM & VIGR, a company that is devoted to offering stylish, comfortable and high functioning compression socks, are proud to announce the debut of their new men's line. The newly-released socks use an innovative Gradient Pressure (TM) knitting technology that is designed to increase the circulation of freshly oxygenated blood.
VIM & VIGR's commitment to adding flair and style to a product that has traditionally been thought of as just functional recently caught the eye of a writer at The New York Times. As the recently-published article noted, VIM & VIGR hires "style-conscious" designers who have worked at well-known and successful fashion companies like Ralph Lauren and Tommy Hilfiger. In addition, the company was also just mentioned in a blog on the AARP website; the article, which is titled "Compression Socks are Now Hip," said that the products offered by VIM & VIGR are "definitely not your grandma's compression stockings." Instead, the socks are not only healthy, they are also hip and stylish.
Now, thanks to the launch of the men's line, more people than ever will have the chance to improve their overall health and leg energy while still wearing fashionable and comfortable socks.
"The men's debut line will feature new designs including argyle and stripe patterns, incorporating natural fibers that make the socks comfortable for all-day, every day wear," a spokesperson for VIM & VIGR noted, adding that with a flexible toe pocket, fitted heel and contoured leg, the compression socks support a healthy lifestyle and increase blood circulation throughout the leg.
VIM & VIGR's socks for men will be available in nylon, cotton and wool in a variety of styles at select retailers and at vimvigr.com for $29.95 - $34.95 MSRP. Anybody who would like to learn more about VIM & VIGR is welcome to visit the company's user-friendly website at any time; there, they can browse through the large selection of stylish and attractive compression socks for men and women.
About VIM & VIGR:
VIM & VIGR was introduced to bring the benefits of compression socks to more people who need everyday relief. Like most people, the founders of the company have jobs that keep them seated at their desks or behind the steering wheel or on their feet for most of the day. Their legs were often sluggish, making after work more about recuperation than recreation and relaxation. Compression socks proved to be a great solution. They energized their legs for their post-work play, but didn't do much for their sense of style. And so their quest to make the most stylish and effective compression socks began with a unique formula. For more information, please visit http://vimvigr.com/