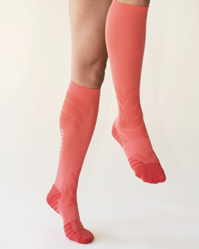 LOS ANGELES (PRWEB) January 30, 2023
Comrad Socks has just released another new style, adding to their line of trendy and comfortable compression socks. The latest style in their line is the knee high athletic compression sock. The knee-high athletic style is made to perform for athletes or anyone who is looking to improve their circulation. This style helps to boost endurance by increasing circulation for energized legs that will go further and push harder. It also helps to stabilize the muscles by supporting key areas and protecting against micro-tears and strains. This leads to faster recovery by removing lactic acid which also improves circulation.
Compression socks have been around for years as a solution to poor circulation. However, the standard varieties are oftentimes uncomfortable, unattractive, and come with a high price tag. Comrad has made it their mission to improve the original concept of compression socks by improving the design and making them more affordable. Rated five stars overall, the knee-high athletic sock's reviews paint a picture of the company's success.
One satisfied customer states "I love these socks so much. I've been a runner my entire life and just ran in compression socks for the first time and I'm absolutely in love. I'll never run again without them! Thank you Comrad for an epic product!"
Comrad continues to release new designs and styles to satisfy even the pickiest of customers. With dozens of different options to choose from, just about everyone should be able to find a compression sock that they love. If you are an athlete or anyone looking to improve circulation, compression socks are a great way to get the relief you desire.
###
About Comrad Socks: Comrad was created to find a solution to the typical ugly, expensive, and uncomfortable compression socks that are currently available. Comrad believes that the solution to aching, tired, and swollen feet shouldn't sacrifice comfort and style. They have been family-owned and operated for over 20 years and are highly conscious of their impact on the planet.