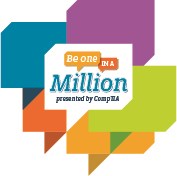 'We have been a CompTIA partner since 2003,' said ExamForce president Kevin Forcier, 'so when CompTIA announced its One Million A+ promotion, we were happy to do our part and donate training prizes for this major accomplishment.'
Largo, FL (PRWEB) February 12, 2014
ExamForce, a long time CompTIA Authorized Partner (CAPP), is pleased to announce its participation in the CompTIA 'Be One in a Million' A+ Certified Contest.
As CompTIA approaches this milestone of one million certified A+ professionals, ExamForce is part of a team of content and training partners that will generously award CompTIA A+-related prizes which also includes ExamForce e–learning Training Courseware and CramMaster test prep to IT professionals.
"We have been a CompTIA partner since 2003," said ExamForce president Kevin Forcier, "so when CompTIA announced its One Million A+ promotion, we were happy to do our part and donate training prizes for this major accomplishment."
Running until March 31st, 2014, 150 CompTIA A+ certification training prizes will be awarded including e-learning, practice tests, instructor-led courses and more. Prize winners will be selected by random drawing on April 7, 2014.
'Be One in a Million' and enter for your chance to win A+ training materials today.
IT professionals require on-demand training to fit into their busy schedules in order to successfully prepare for certification exams as well as maintain certifications through continuing education. ExamForce leads the way with a wide variety of products and services including online training courseware, CramMaster practice exam software, audio preparation, and ExamCoach 24/7 mentoring service. These tools give IT pros the means to stay current with CEUs and competitive in today's ever changing landscape of Information Technology.
About CompTIA
CompTIA is the voice of the world's information technology (IT) industry. As a non-profit trade association advancing the global interests of IT professionals and companies, CompTIA is the recognized authority for IT education and credentials and the primary advocate for IT businesses and workers on a national and international scale. Through its foundation, CompTIA also enables disadvantaged populations to gain the skills they need for employment in the IT industry. CompTIA's vision of the IT landscape is informed by more than 25 years of global perspective and more than 2,700 members and 1,000 business partners that span the entire IT channel. For more information, visit http://www.comptia.org or follow CompTIA on Twitter at http://www.twitter.com/comptia.
About ExamForce
A division of LearnForce Partners LLC, ExamForce was founded in 1999 to assist individuals and organizations with preparing for and passing IT certification exams. Since our inception, our industry recognized materials have assisted countless people in growing their knowledge and advancing their careers. ExamForce develops training courseware, practice exam software, audio preparation programs, and study guides for the Information Technology and Trade marketplaces.