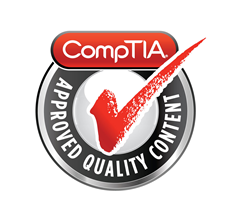 "ExamForce is committed to excellence"
Largo, FL (PRWEB) August 28, 2014
ExamForce, a premier provider of training and self study tools for IT certification, announced that its CramMaster for CompTIA Security+ SY0-401 has earned CAQC status. CompTIA (via ProCert Labs) awards the CAQC designation only after stringent review by industry experts.
According to CompTIA's website, "Training material given the CAQC seal has gone through a rigorous approval process to confirm the work meets exam objectives, language standards and necessary hands-on exercises and labs. Students, training organizations and educational institutions recognize the CAQC logo as the quality trademark of CompTIA certification materials. "
Job growth is strong in the IT sector and nowhere is that more apparent than in the security arena. With job demand far exceeding available qualified candidates, ExamForce recognizes the challenge CIO's face in the coming year and is focused on providing IT professionals with the finest training in the marketplace.
Noting the explosion of cloud-based technology and the rapid expansion of virtual computing environments, ExamForce president Kevin Forcier said the company continues to focus on driving higher standards for training products.
"We are committed to excellence" said Forcier. "It's a highly competitive landscape and IT pro's need to know who to trust. By making sure our software is of the highest quality and conforms to the strictest standards as decreed by CompTIA, there will be no guesswork when it is time to decide which training provider to choose."
The CompTIA Security+ is a vendor neutral certification that spans information technology's need for security professionals. It is also a component certification of the Department of Defense's 8570 directive. The directive requires any individual with access to DoD systems and who conduct information assurance (IT security) functions as part of their job be certified commensurate with their job responsibilities.
About ExamForce
A division of LearnForce Partners LLC, ExamForce was founded in 1999 to assist individuals and organizations with preparing for and passing IT certification exams. Since its inception, ExamForce's industry recognized materials have assisted countless people in growing their knowledge and advancing their careers. ExamForce develops and sells training and practice test software, audio preparation programs, study guides and flash cards for the Information Technology, Financial and Trade marketplaces. For more information go to http://www.examforce.com; follow us on Twitter at http://www.twitter.com/ExamForce and Facebook at http://www.facebook.com/ExamForce.
About CompTIA
CompTIA is the voice of the world's information technology (IT) industry. As a non-profit trade association advancing the global interests of IT professionals and companies, CompTIA is the recognized authority for IT education and credentials and the primary advocate for IT businesses and workers on a national and international scale. Through its foundation, CompTIA also enables disadvantaged populations to gain the skills they need for employment in the IT industry. CompTIA's vision of the IT landscape is informed by more than 25 years of global perspective and more than 2,700 members and 1,000 business partners that span the entire IT channel. For more information, visit http://www.comptia.org or follow CompTIA on Twitter at http://www.twitter.com/comptia.