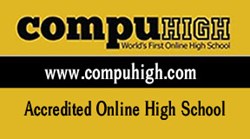 (PRWEB) September 25, 2013
Students enrolled at CompuHigh online high school who took the ACT standardized college aptitude test last year scored above the national average in English, mathematics, and science. Composite ACT scores of CompuHigh students were also above the national average.
The national average ACT score in mathematics for the 2012-2013 school year was 20.9 while the average score of CompuHigh students was 25.5 in math. In science, CompuHigh students scored an average of 23 compared to the national average of 20.7.
"These scores tell us something significant about the effectiveness of mastery learning," explains CompuHigh Educational director, Jeannette Geib. "Amid persistent concerns about U.S. students' ability to compete internationally in math and science, a flexible mastery learning method like the one we use at CompuHigh is essential. Maths and sciences require cumulative skill building. A child simply cannot learn to do algebra who has not learned to do long division. So kids who stumble early can easily fall into a downward spiral of frustration and failure in their education. Then not only do they not learn, they can slow the learning for other students in the class who are ready to move on. In our mastery learning model, students build their skills at their own pace. A student who is lacking prerequisite skills has the time to put together all the missing pieces and move on to the next level truly ready for the work. And a student who thrives in a subject has the freedom to keep learning more. In the end, all types of learners master more skills than they would have otherwise, and, even when averaged out, standardized scores end up higher."
"We have a high number of students who come to us educationally 'at-risk' for various reasons, be it life circumstances or learning differences that have hindered their success in traditional schools. We see incredible turn-arounds in these students all the time as they gain self-confidence in a learning environment that works for them," adds CompuHigh Lead Guidance Counselor Marianne O'Doherty. "These high scores come both from students who come to us academically gifted as well as those who might not have even considered college as an option before coming to CompuHigh."
CompuHigh is a private school accredited by AdvancED (North Central and SACS) and offers both individual courses as well as high school diploma programs. CompuHigh has offered innovative curriculum completely online in a self-paced, mastery framework since 1994. For more information go to http://www.CompuHigh.com or call 1-866-859-0777.