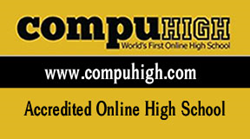 Leadership and instructional staff are committed to mastery learning.
(PRWEB) February 03, 2015
The AdvancED Accreditation Commission gave its final approval last week to the accreditation renewal of CompuHigh-Whitmore School, an online private high school with a national and international student body. CompuHigh-Whitmore has been continuously accredited since 2005, and the current renewal maintains this status for an additional 5 years.
This past October, CompuHigh-Whitmore School participated in an external review process in which AdvancED analyzed the the impact of teaching and learning on student performance, the capacity of leadership to effect continuous improvement, and the degree to which CompuHigh-Whitmore optimizes its use of available resources to facilitate and support student success.
The AdvancED review team offered several commendations of CompuHigh-Whitmore School during this review process. They stated, "The team was impressed with the relatively strong sense of community among staff and students in a digital environment. That is testimony to the quality and passion for teaching among instructional staff. Examples of the relationships that are created between staff and families were evident through interviews and survey results."
The team went on to note, "The school has managed to keep its tuition at reasonable rates as compared to other for-profit institutions. This school has carved a niche through offering quality programming for students with unique needs, such as student athletes, at risk learners who may not have been successful in the public school environment, and home schooled students. The school offers greater flexibility in starting and completion time of courses, while mastery learning is not negotiable...Leadership and instructional staff are committed to mastery learning."
AdvancED is the umbrella organization for three regional accrediting bodies: North Central Association (NCA), the Southern Association of Colleges and Schools (SACS), and the Northwest Accreditation Commission (NWAC). AdvancED is committed to not only ensuring high quality education at its accredited institutions, but in engaging schools in an ongoing process of continual improvement. This focus on continuous improvement is one of the hallmarks of AdvancED accreditation.
Priorities for improvement at CompuHigh-Whitmore School that emerged during the external review process involved a more systematic process for collecting and utilizing student data as well as a more structured professional development process for faculty and staff that provides specific training in the use of student data. Addressing these improvement priorities within two years will raise CompuHigh-Whitmore School's "Index of Educational Quality" score.
About CompuHigh:
CompuHigh is an private online high school providing diploma programs and individual courses since 1994. CompuHigh is accredited by AdvancED and is also an approved NCAA core course provider. CompuHigh's private diploma program high school is called Whitmore School. For more information about CompuHigh, visit http://www.CompuHigh.com or call 1-866-859-0777 to speak with Melissa, the Admissions Specialist.