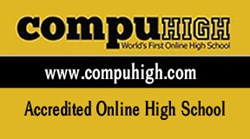 CompuHigh's AdvancED accreditation re-assures families that CompuHigh offers a high quality online education.
(PRWEB) October 08, 2013
CompuHigh online high school's Educational Director, Jeannette Geib, is traveling this week to Portland, Oregon to participate in AdvancED's Digital Learning Conference. The conference will be focusing on the AdvancED Accreditation Protocol including digital learning standards and assurances and recently developed school improvement support and tracking tools that AdvancED provides.
CompuHigh online high school has been accredited through AdvancEd since 2005. AdvancED is the umbrella organization of three regional accrediting bodies including North Central (NCA CASI), Northwest (NWAC), and Southern states (SACS CASI). According to AdvancED's website, "AdvancED is the world's largest education community, serving more than 30,000 public and private schools and districts across the United States and in more than 70 countries that educate over 16 million students."
Accreditation and renewal is a rigorous and lengthy process that involves both an internal and an external review by an AdvancED accreditation review team. AdvancED carefully examines the governance and educational practices of each school it accredits, placing emphasis on the school's continuous improvement process. Continuous school improvement is an ongoing process of collecting and examining outcome data and stakeholder feedback, then using that data to inform school improvement goals that are reviewed on a regular basis. In other words, an accredited school must regularly ask itself, "How are our students doing? What can we do to help them do even better?"
With a proliferation of online educational programs, this rigorous accreditation process offers essential quality control assurance to students and their families. CompuHigh's AdvancED accreditation re-assures families that CompuHigh offers a high quality online education. Moreover, it also lends added validity in the eyes of other schools and higher learning institutions, aiding the transferability of credits and the acceptance of diplomas. CompuHigh's students move on to colleges, universities, and trade schools throughout the nation.
"I am excited to attend this conference," says Geib. "AdvancED Digital Learning Standards and Assurances have evolved since our last renewal. AdvancED has also developed new software tools for tracking performance. I am eager to get a finer understanding of these things and do some creative brainstorming about how we can incorporate them into our mastery learning system and school improvement process."
CompuHigh online high school was established in 1994. CompuHigh offers both individual courses and flexible diploma programs. CompuHigh's private diploma program high school is called Whitmore School. For more information about CompuHigh, visit http://www.CompuHigh.com or call 1-866-859-0777 to speak with Admissions Specialists Melissa or Kassie.