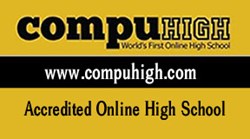 The standards leave plenty of room for flexibility to adapt to the learning needs of each student and to the creativity of great teachers. This is very important to us at CompuHigh.
(PRWEB) September 17, 2013
CompuHigh Online High School has embraced the Common Core State Standards and is continuing its in-house development of Common Core compatible curriculum. CompuHigh has begun its incoming freshman students in the college preparatory program on a Common Core English Language Arts track. CompuHigh is continuing its efforts to implement Common Core curriculum across the core subjects.
The Common Core State Standards initiative was a collaborative effort among experts from states across the country. The effort was begun by states, carried out by states, and remains in the hands of the states, with no involvement from the Federal Government. Forty-five states, the District of Columbia, four territories, and the Department of Defense Education Activity have voluntarily adopted the Common Core State Standards. Each state has set its own schedule for reaching full implementation of the standards and most have chosen to set a deadline for implementation by this school year (2013-14) or next school year (2014-15).
"There is a great deal of backlash about these standards," acknowledges CompuHigh Educational Director, Jeannette Geib. "I understand the skepticism. The thought of a one-size-fits-all, federally-dictated curriculum would turn my stomach, too. But after thoroughly looking into it, including writings by Common Core objectors, we've concluded that this is not actually the case. The Federal Government had nothing to do with the writing of the standards. The standards are not part of No Child Left Behind or Race to the Top. The standards leave plenty of room for flexibility to adapt to the learning needs of each student and to the creativity of great teachers. This is very important to us at CompuHigh."
Implementation of the Common Core State Standards typically involves not only a shift in the text books used, but also a shift in the standardized tests given by a state so that the tests better match the Common Core. Standardized testing is not part of Common Core, but rather a part of other state and federal requirements that are unrelated. CompuHigh, as a private school, is not required to participate in standardized testing like public schools. Since its founding in 1994 as the "world's first online high school," CompuHigh has maintained a stance against standardized tests. Instead CompuHigh uses a self-paced, Mastery Learning system that ensures students learn each concept before they move on to the next. "There's no risk that students would come to the end of the school year and not know something they should have learned in the class," explains Principal Stan Kanner. "If they didn't learn it, they are still working on it. Class isn't over until a student 'gets it'."
CompuHigh's Educational Director, Jeannette Geib, has been leading the school's development of new Common Core curriculum. "Our teachers and I have invested so much creativity and effort over the past several months into developing curriculum and writing lessons. The standards are refreshingly open to creative and individualized curriculum development. For example, an English Language Arts standard for grades 11-12 says, 'Demonstrate knowledge of eighteenth-, nineteenth- and early-twentieth-century foundational works of American literature, including how two or more texts from the same period treat similar themes or topics.' That's a wide open plain of literature with infinite possible combinations of genres, authors, and themes. And it can be met differently by students with all different types of abilities. I have to admit, I have had a ball working on this--selecting readings, inventing questions and assignments, organizing them together into cohesively themed units. It's been challenging, but so much fun at the same time."
"I have been very impressed by the emphasis on critical thinking that I've seen in these Common Core standards," notes CompuHigh teacher, Derwin Hampton, who is collaborating on the curriculum project. "I also teach at the college level, and these are the very reading, writing, and thinking skills I want to see in freshmen college students. These are demanding standards that require students to think deeply and precisely about any text that they read."
"Changes in curriculum are always unsettling and costly for school systems," says CompuHigh Head Registrar Marianne O'Doherty, "Since we have students from all over the nation, this movement toward consistency across states is very beneficial. Students from almost any state in the country will be able to transfer to and from our school without missing a beat in their education. They can have confidence that our 9th grade course will make them ready for any 10th grade course anywhere else they choose to go. It quite literally gives student an unprecedented amount of educational freedom."
CompuHigh is accredited by AdvancED (North Central and SACS) and is an approved provided or NCAA core courses. CompuHigh has year-round, open enrollment. For more information visit http://www.CompuHigh.com or call 1-866-859-0777.