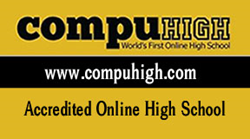 Klouse specializes in differentiating instruction to meet students' individual learning needs and styles.
(PRWEB) June 10, 2014
CompuHigh online high school recently welcomed a new administrative staff member, Kathleen Klouse. Klouse brings over 15 years of experience in educational support services to her role of Dean of Students and NCAA Coordinator at CompuHigh.
CompuHigh's Whitmore School is one of a limited number of online high schools approved by NCAA to offer core high school courses to college bound NCAA athletes. NCAA has stringent guidelines for rigor, transparency, and student-teacher engagement in any approved "non-traditional courses." CompuHigh's intensive curriculum and high level of student-teacher interaction meet NCAA expectations.
In her role coordinating CompuHigh's growing NCAA program, Klouse brings not only her professional experience managing educational support services, but also her experience having been a student athlete herself. Klouse reflects, "I remember what it was like juggling sports and academics in high school in order to earn a college scholarship. My 'job' as a teenager was to pay for college with my sport. I wasn't always the most responsible teenager, so I have a lot of empathy for students who find themselves scrambling to meet the academic requirements."
CompuHigh's self-paced courses are available anytime throughout the year, so students needing to maintain their NCAA eligibility can enroll in a course as soon as they realize they need it. CompuHigh's mastery learning process allows students to work on each assignment until mastery is show. This allows students not only to improve their grades, but also build a solid foundation of skills in preparation for college. NCAA students take a proctored final exam at the end of the course to verify their authentic mastery of the course material.
As Dean of Students, Klouse will also be working with the general population of CompuHigh students and their families to enroll students, provide initial orientation, and provide ongoing outreach to address individual needs and concerns.
Prior to joining the CompuHigh team, Klouse managed a tutoring center, a position that allowed her to tailor educational programs to address both specific and broad learning needs, coordinate the implementation of those programs, as well as work one on one with students. She specializes in differentiating instruction to meet students' individual learning needs and styles. This expertise fits CompuHigh's educational methodology with its one on one student-teacher interaction model and its emphasis on mastery.
About CompuHigh:
CompuHigh is an private online high school providing diploma programs and individual courses since 1994. CompuHigh is accredited by AdvancED and is also an approved NCAA core course provider. CompuHigh's private diploma program high school is called Whitmore School. For more information about CompuHigh, visit http://www.CompuHigh.com or call 1-866-859-0777 to speak with Melissa, the Admissions Specialist.