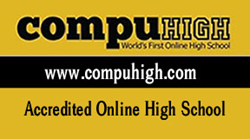 I have students with a wide range of abilities. Because the coursework is individualized and self-paced, I can modify the learning to match the student's ability level.
(PRWEB) March 18, 2014
Before developing and teaching CompuHigh's Work Ethics elective course, Ian Rudick began working as outreach marketer at CompuHigh, identifying opportunities for strategic partnerships for the educational business. Rudick was impressed when he learned the world's first online high school began when Stan Kanner, CompuHigh founder and Principal, had to adapt high school learning for his own daughter.
Rudick himself is a small business owner. He developed a company which creates partnerships of mutual benefit and cooperation. Working for CompuHigh seemed to Rudick an ideal fit for his values.
CompuHigh wanted to add a Work Ethics course to its curriculum to help students understand more about themselves and the world of work. School Director, Marianne O'Doherty saw the opportunity to put Rudick's experience and skill to use to develop this new class. "Designing and teaching the Work Ethics Course has been most satisfying for me of all my work for CompuHigh," explains Rudick. "The feedback from my students has been great, and I find I learn as much as I teach from reading their posts."
Rudick's experience using CompuHigh's individualized mastery learning model has been an encouraging part of his teaching. According to Rudick, "I have students with a wide range of abilities. Because the coursework is individualized and self-paced, I can modify the learning to match the student's ability level. For some this may mean basic reading comprehension and writing. For others, it involves an in depth self-exploration. I can also add materials to enhance learning specific to what I find the student may need."
According to Rudick, one area that challenges most students is reflective listening. Rudick says he learned this skill while in graduate school in counseling. Rudick writes in a Work Ethics lesson, "As one who has practiced reflective listening, I would say it is simple to do but not easy. It is simple to do because the art of listening to someone with empathy is a basic human act. It is hard to do because our instinct is to be helpful by offering our understanding, knowledge, advice, from our frame of reference. Suspending our judgment is not easy. It takes practice. In this time of multitasking and information overload, it is not easy to set aside activity, thoughts, etc. to attend to another human being in an empathic manner."
The first lesson in the Work Ethics course deals with personal integrity and accountability. Practicing accountability has been particularly empowering to Rudick. "I was the kind of person who would blame my failings on others. Taking responsibility for my mistakes and accepting them for what they are is a difficult concept. It is one that has been particularly useful for me to learn and is equally important for my students to grasp."
As a "socially responsible businessman," Rudick knows that ethical behavior is both vital and increasingly difficult to find. "My background was in social services. Much to my dismay, I began to discover that what we said in this field and what we actually did were two entirely different things. I recently learned that this is an even bigger problem today than it was 30 years ago when I first worked in that field." "Disabling Help" is a blog Rudick recently wrote about his experiences with social services delivery: http://disablinghelp.blog.com/.
Outside of CompuHigh, Rudick has an active business life in which he continues his efforts to improve life for people with developmental disabilities. Today this takes the form of partnering with persons with disabilities in the production and sales of advertising items. According to Rudick, "I decided I wanted to demonstrate a model of pay for a business partner with a developmental disability based upon profitability rather than the more traditional concept of productivity. My current partner earns more working one hour for me that he did working two weeks at a traditional Sheltered Workshop setting. I am quite pleased with the assembly work Ya-Sin and his mom do making bottle cap magnets and buttons for advertisers. Similar to myself and the owners of CompuHigh they take their work seriously. I love partnering with folks like Marianne, Stan, Ya-Sin, and his mom." To learn more about the bottle cap magnets visit http://www.cfthadvertising.com/bottlecap-magnets.html.
About CompuHigh:
CompuHigh is an private online high school providing diploma programs and individual courses since 1994. CompuHigh is accredited by AdvancED and is also an approved NCAA core course provider. CompuHigh's private diploma program high school is called Whitmore School. For more information about CompuHigh, visit http://www.CompuHigh.com or call 1-866-859-0777 to speak with Melissa, the Admissions Specialist.