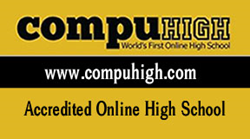 I think that journey is more important to instill in a young person rather than just getting the answer that is "right".
(PRWEB) September 16, 2014
CompuHigh online high school recently joined the "You Can Learn Anything" movement launched by Khan Academy. The goal of this movement is to "help people realize they can build up their intelligence by embracing the struggle of learning." CompuHigh's mastery learning model fosters this "growth mindset" that research shows correlates to better learning outcomes.
The teacher discussion board at CompuHigh has been buzzing this week with responses to Salman Khan's blog post "The Learning Myth: Why I'll Never Tell My Son He's Smart." Teachers have used the article as a launching point to discuss such issues as how to give effective positive reinforcement to students, how to provide just enough guidance while still allowing the student to experience struggle and growth, as well as the need to provide enrichment to students who have a talent or interest in a particular field.
One theme that emerged repeatedly in the teachers' conversation was how well CompuHigh's mastery learning model fits this growth mindset. "Isn't that what mastery is all about?" asked Teacher Pamela Poe. "No matter where you are, you can always be better. I think that journey is more important to instill in a young person and any person rather than just getting the answer that is 'right.' Perseverance not only is an admirable trait...it helps the brain grow!!!"
CompuHigh's mastery learning model allows students to keep trying until they master each lessons' learning objectives. Students submit an assignment, then work through revisions and follow up questions with the assistance of their teacher. Teachers provide additional resources, instruction, examples, etc. to differentiate instruction for each student until that student achieves mastery on the lesson and receives a grade for it. Teachers at CompuHigh express a passionate commitment to this process and a strong belief that, in their own time and in their own way, all students can learn. As teacher Mark Schraf pointed out, "For me, it doesn't matter how long or how many revisions it takes to get it, only if they TRULY get in the end."
Khan's blog post was also shared with CompuHigh students in a school wide announcement. Students were encouraged to "Take some time and read this article about perseverance and learning. This will help you understand why CompuHigh - Whitmore School wants you to ask questions, revise your work and do it until you understand it." According to Educational Director and psychology teacher Jeannette Geib, "This information on neuroplacticity is so important for students to know. It is empowering to learn that you can affect your own intelligence through how hard you choose to work on mental tasks. I have been reinforcing this idea already with my psychology students, and now I am giving them the Khan video to watch during the lesson that includes this topic."
About CompuHigh:
CompuHigh is an private online high school providing diploma programs and individual courses since 1994. CompuHigh is accredited by AdvancED and is also an approved NCAA core course provider. CompuHigh's private diploma program high school is called Whitmore School. For more information about CompuHigh, visit http://www.CompuHigh.com or call 1-866-859-0777 to speak with Melissa, the Admissions Specialist.