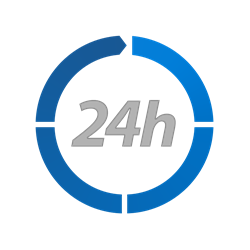 We know some users need help within hours. We're pleased to offer our new service for these users
Wilmington, Delaware (PRWEB) November 12, 2013
After the release of the 24h Answers service whereby consumers logged onto 24hComputerRepair.com and ask the site's tech experts questions free of charge, the online computer service founders are now taking it one step further. Today the company launches its beta Live Chat service, available to public immediately. The site will offer one free chat per visitor until the end of the year between the hours of 9 a.m. and 5 p.m. Pacific Standard Time.
Live chat support will allow users to enjoy quick response to common issues with PCs, Macs, Tablets and SmartPhones. The chat extends 24hComputerRepair.com's commitment to provide Internet users with approachable and easy ways to receive help for computer problems.
"We're excited to launch our beta chat service, to further help users with their most troublesome computer problems. We know some users need help within hours. We're pleased to offer our new service for these users" a spokesperson for 24h Computer Repair said.
Technical issues covered often hit on installation, configuration, data recovery and virus protection to name a few. Just knowing that technical help is easily obtained makes computer issues less frustrating. Live Chat offers instantaneous help for large portion of computer problems. With the full release of the service, aimed for the beginning of January the website will provide instant computer help with 7/24 coverage for its visitors.
For more information and to see the full range of computer repair services the site provides, please visit http://24hComputerRepair.com.