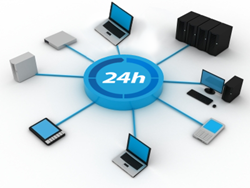 The addition of the Remote Access service makes 24hComputerRepair.com a one-stop on-line computer solution center for consumers - Just in time for the holidays
Wilmington, Delaware (PRWEB) November 29, 2013
As individuals prepare to buy new technology during the Black Friday shopping event, computer issues can plague their holidays with errors and malfunctions. 24h Computer Repair is expanding their services to help more customers than ever with computer issues. The website is proud to launch their new Remote Access service, just in time for the holidays. Now its experts are able to connect remotely to computers that are having problems and fix them just as if they were seated in front of the device themselves. The new service effectively fixes all computer problems that do not require hardware repair such as broken displays or crashes to one's hard drive.
24hComputerRepair.com recently launched their live chat, and now improves their website more with the new Remote Access service. This Black Friday and Cyber Monday 24hComputerRepair.com helps computer users at no cost to check errors and malfunctions with PCs, Macs, tablets and smartphones off their list.
The addition of the Remote Access service makes 24hComputerRepair.com a one-stop on-line computer solution center for consumers. The website's free services encompass Video Tutorials and the 24h Answers portion of their site whereby visitors can ask a question and have the conversation become a part of an online library for everyone's advantage. The premium services include Live Chat, which is currently in beta and offered free of charge until the end of the year, and now Online Remote Access service. The website covers more than computers, with information available on smartphones and tablets as well.
About 24hComputerRepair.com
24hComputerRepair.com is dedicated to make technology issues approachable, to provide site visitors with a way to solve their specific computer, tablet and smartphone problems.
The website features answers delivered within 24 hours and video tutorials to help consumers at no cost. Premium Live chat and Remote Access services offer instant solutions to visitors for computer, tablet and smartphone problems.
For more information, please visit http://www.24hComputerRepair.com.