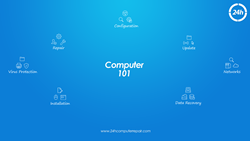 Wilmington, Delaware (PRWEB) September 30, 2014
24hComputerRepair.com, a website dedicated to assisting users with computer problems, is proud to announce they have added a new complimentary service, Computer 101. Since last year, 24hComputerRepair.com has been serving individuals with their computer needs, offering remote assistance, live chat and free answers to written questions. Computer 101 was created to help users have a source for basic, but essential computer tutorials.
Computer 101 features mainly Windows tutorials today. Topics covered include "How to find a Wireless Security Key for Windows," "How to Create a PIN in Windows 8", "How to Install a Driver in Device Manager" just name a few examples. However, user are invited to post requests for for Mac, iOS or Android devices.
For easy navigation the content is organized according to the control panel and settings of the respective devices. The tutorials are fully-illustrated with recognizable icons and screenshots, so visitors can follow along to see exactly how to get their anticipated results. In addition to Computer 101, the website also has a full selection of advices, articles, tips and hints for a variety of devices. Each tutorial contain a video with step-by-step demonstration, which are available for viewing also on YouTube.
About 24hcomputerrepair.com
24hComputerRepair.com is dedicated to make technology issues approachable, to provide site visitors with a way to solve their specific computer, tablet and smartphone problems.
The website features answers to written questions delivered within 24 hours and video tutorials to help consumers at no cost. Premium Live chat and Remote Access services offer instant solutions to visitors. For more information, please visit http://24hComputerRepair.com.