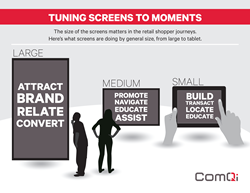 You're trying to establish what those consumers are attempting to do, and then respond to that with relevant messaging at relevant moments
New York, NY (PRWEB) August 23, 2016
ComQi, a global leader in in-store shopper engagement technology, explains that the size of each screen used for in-store signage should be relevant to the customer journey and the overall business objective. These objectives could vary from increasing store traffic, driving conversion rates, improving branding loyalty, assisting or educating customers, to reducing perceived wait time.
"Size Matters" explores various other use cases where screen location, orientation and size come into play:

Endless Aisle
Assisted Selling
Self-guided Shopping
Interactive Communications
Reinvented Experiences
Contextual Messaging & Smart Displays
ComQi further emphasizes the difference between small form-factor commercial touchscreens and consumer tablets when it comes to digital signage.
The paper concludes on an important note for retailers - "Tune the messages to the shopper moments and fit the screens to that purpose" signifying that retailers should figure out the challenges they are facing and find a technological solution that fits that challenge (not the other way round). It's imperative to remember the best digital signage projects are ones that make an impression or offer services that make things faster, easier and generally relevant – at the right moments.
To download and read the full paper, click here
About ComQi
ComQi is a global leader providing a cloud-based Shopper Engagement Technology that influences consumers at the point of decision, in-venue, using all digital touch-points: digital signage, mobile, video, touch, web, and social networks. ComQi is a global company headquartered in New York with offices in Toronto, and London with over 16 years of expertise and an install base across every continent.