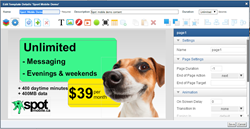 The great thing about EnGage OnSite Manager is its unique access levels to maintain brand integrity with local customization capabilities
New York, NY (PRWEB) May 29, 2014
Major enhancements to ComQi's OnSite Manager™ toolkit allow digital signage network operators to fine-tune local messaging capabilities to their organizations' exacting needs and processes.
ComQi's newly released OnSite Manager 3.10 adds new capabilities that allow businesses and organizations of any size to create, manage and schedule digital signage content down to the local office and even local department level. Though easy for users, the browser-based platform is governed by powerful rules and rights-based administration tools that ensure messaging is subject to tight approval processes.
"There was a lot of effort put into this release to respond to the diverse needs of our customers, who represent everything from grocery retailing to health care management," explained Max Stevens-Guille, Chief Technology Officer of ComQi. "We made it configurable to a lot of different workflows, because we wanted to deliver a product that customers could use the way they wanted to, as opposed to how we might say it had to be used."
"It's very powerful when you can tell a customer a system is designed to be readily tailored to their needs and how they work, so that they don't have to make compromises," added Stuart Armstrong, ComQi's Chief Revenue Officer. "Local messaging tools in digital signage are common, but we're not aware of any competitive products that approach OSM's depth of capability."
OSM 3.10 is a companion product to ComQi's award-winning content management system, EnGage. While digital signage networks are centrally hosted and managed by designated administrators using the ComQi EnGage software as a service solution, the optional OSM system allows content to also be created and updated by anyone within an organization that's been assigned user rights. Local content created and approved within OSM is distributed and managed using EnGage.
"The great thing about EnGage OnSite Manager is its unique access levels to maintain brand integrity with local customization capabilities," said Bryant Little, Director of Motion Graphics at Playnetwork. "We've previously been challenged with managing local messaging, but OnSite Manager gives us the flexibility and ease of use to create branded templates and still give our consumers control of the final output."
OSM 3.10 provides a digital signage network with the power of location through permission and creation options assigned at head office, regional, local and even department levels. Approved users can easily and quickly customize local messages, and communicate a wide range of information, on templates created by an administrator.
Highlights of OSM 3.10 include:

Tight Message Approvals: All messaging can be subjected to an approvals process that includes comments;
Granular Permissions: Messaging, template usage and availability, editing and content targeting capabilities can be assigned, easily, down to individuals within specific departments and locations of companies;
Animations and Effects: Templates can cycle through multiple pages of messages, and include animations, image slideshows and text effects;
Easy Management: Templates are organized through a folder tree system, allowing drag and drop manage for content creation;
Customized Help: OSM allows administrators to customize their help tabs down to individuals or types of users, based on their site, role and ID. Help tabs can also point directly to customer ticketing systems.
OnSite Manager (OSM) also expands capabilities for creating real-time and near real-time automated content using sophisticated, but easily activated, data integration tools. Content based on everything from data in food ordering systems to queue management can be mapped and then injected or pulled into pre-designed templates – ensuring content is fresh without requiring any manual updates.
About ComQi
ComQi is a global leader providing a cloud-based Shopper Engagement Technology that influences consumers at the point of decision, in-store, using all digital touch-points: digital signage, mobile, video, touch, web, and social networks. ComQi's mission is to deliver an end-to-end solution that is tailored to engage consumers by optimizing communications and marketing strategies that provide the best ROI. Passport, ComQi's mobile solution, is a targeted communication channel between the retailers and the shoppers, through the stores' displays and the shoppers' smartphones and tablets.
Through the Passport interactions, retailers enhance their marketing campaign for shoppers to experience a unique and personal connection with their brand. Visitors are stimulated by an entertaining digital dialogue, reinforcing the brand identity and the consumer brand relationship. Simultaneously, retailers gain valuable detailed data analytics and business intelligence on the shoppers.
ComQi's hundreds of customers include leading brands around the world, such as Victoria's Secret, Bath and Body Works, Meijer, H&M/Weekday, Six Flags, AT&T, McDonald's and The Premier League (in the UK), CinemaxX (in Germany), Toys 'R' Us (in China), and Carrefour and Credit Lyonnais (in France).