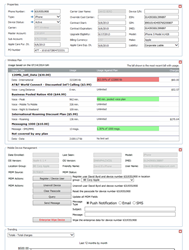 Comview set out to provide functionality from the combined EMM / WMM solution that is greater than the sum of the parts.
Huntington Station, NY (PRWEB) August 26, 2014
Comview, a premier provider of integrated wireless mobility management (WMM), telecom expense management (TEM) and call accounting software and services, today announced that it has expanded the integration between its wireless management portal and the AirWatch® by VMware enterprise mobility management (EMM) platform to bring new capabilities and enhanced security to enterprises. The integration will be showcased at AirWatch Connect™ in Atlanta this September where Comview is a sponsor.
EMM and WMM / TEM have typically co-existed in organizations as separate applications, each with its own set of management and reporting tools. But with Comview's enhanced AirWatch integration, enterprises can effectively manage and report on all of their mobile devices, users, expenses and security from a single web interface while gaining valuable new functionality from combined data.
Administering independent applications requires duplicate data entry that is time-consuming and error-prone. With the combined solution, information is entered only once and automatically synchronized between the two portals, quickly and accurately.
AirWatch administrative activities are securely managed directly from Comview's wireless management application that ensures only those with appropriate permissions can perform sensitive activities like device wipes and clearing passcodes. Authorized users can register or un-enroll users, query devices and send push notifications, emails or SMS messages to devices without having to leave the portal. All relevant device information is displayed in one place, including a map of the last known location.
Device location data enables Comview to minimize unnecessary wireless charges and aid wireless optimization. Using device GPS information from AirWatch, Comview can identify users that may be outside of service contract boundaries and adjust rate plans to avoid costly overages.
Time and money savings are only part of the picture. Enterprises gain valuable management insights through a variety of contextual reports that intelligently combine data from carriers, Human Resources, Accounts Payable and General Ledger with AirWatch information for a holistic view of the corporate wireless environment.
A chain is only as strong as the weakest link, which is why proper utilization is a critical factor in the success of any EMM program. Comview increases utilization by cross-referencing information between platforms to show AirWatch compliance and enrollment status, so enterprises can quickly identify and remedy non-compliant and unregistered devices. Comview's powerful rules-based engine simplifies and automates enrollment to further increase utilization and security.
"Since we first released our AirWatch integration over a year ago, we've incorporated a lot of great customer feedback into the latest round of enhancements," shared John Perri, Comview CEO and founder. "Comview set out to provide functionality from the combined EMM / WMM solution that is greater than the sum of the parts. I think our team is delivering on that goal."
Attendees of AirWatch Connect in Atlanta, September 8-11, can see and learn more about the integration in Comview's booth in the Mobility Expo.
About Comview Corporation
Comview provides fully integrated Telecom Expense Management (TEM), Wireless Mobility Management (WMM) and Call Accounting solutions backed by industry-leading customer service. The company's cloud-based, unified software suite allows companies to easily manage all telecom usage and assets from a single intuitive interface, including: Invoice Management, Wireless Management (with BYOD and MDM integration), Audit & Optimization, Call Accounting, IT Asset Management, Procurement and more. A managed service/BPO approach and "customer for life" philosophy provides customers with the highest level of service and support and sustainable ROI. Comview's services are used by major organizations throughout the U.S. and abroad. For additional information, visit Comview at http://www.comviewcorp.com.