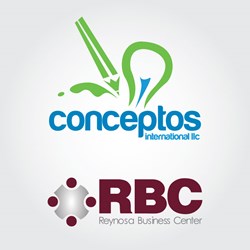 "I have no doubt that with Mexico's growing economy and easy solutions like the one this alliance provides, many businesses will be interested in expanding to Mexico," says Rene Zubiri, CEO at Conceptos International.
South Bend, IN and Reynosa, Tamaulipas, MX (PRWEB) October 22, 2013
Two companies, Conceptos International and Reynosa Business Center, have joined together to offer businesses a smooth transition into the Mexican market. The power of their marketing and the ease of their international logistics make this alliance irresistible for expanding entities.
The Mexican market has historically been unappealing, but investors are getting excited about the country because of a growing middle class and strengthening economy. Since 2000, Mexico's exports in dollars have doubled. Mexico is one of the 7 most attractive countries to invest in, according to the United Nations Conference on Trade and Development (UNCTAD).
Conceptos International is a bilingual marketing firm offering an abundance of services from graphic and web design, to advertising and branding. Where they excel is their presence both in the United States and in Mexico, utilizing knowledge of both markets to make sense of your business internationally.
Reynosa Business Center, strategically located in the border between Mexico and the United States, about 10 minutes from the city of McAllen and 4 hours from San Antonio and Houston in Texas, understands the dynamics of U.S. companies looking to settle in Mexico. When a business moves into a new country they need offices - sometimes physical and sometimes virtual. Reynosa Business Center takes care of that and more. They help you get incorporated, file tax paperwork, and even open international bank accounts.
Because the marketing techniques and legal requirements for different countries vary, having both companies at the disposal of investors makes expanding so much easier. With a seamless integration, this alliance saves time, money, and hassle. Both companies understand the culture and time in business, which is why we they can help ease your expansion or start-up in Mexico.
One of the greater conveniences of this alliance is that companies won't even need to physically relocate or expand to Mexico to take advantage of its growing middle-class market. The virtual office services include: secretary service and professional phone answering, physical address, mail/package management, fax sending and receiving, and call forwarding.
As for the marketing services provided by Conceptos, customers receive logo design, brand elements, trademarking management, full stationary, responsive website design (compatible on mobile devices and tablets), domain, hosting, email management, and a brand guide. One company to handle all your branding and communication needs in Mexico.
Business owners and operators interested in expanding to Mexico or infiltrating the Hispanic-American market should contact Rene E. Zubiri right away. They can email him at: rzubiri(at)conceptossl(dot)com