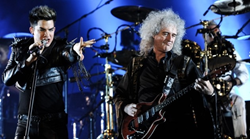 Campbell, CA (PRWEB) April 29, 2014
Top Notch Seats is excited to announce that they are now providing fans with the opportunity to see iconic glam rock band Queen and Adam Lambert in concert. The tickets are on sale now, but the chance to see them in concert won't last long. Rock fans are sure to love the classic, iconic songs of Queen and the modern, hip stylings of well-known singer/songwriter Adam Lambert, so they should not miss out on this unique opportunity.
The glam rock band Queen needs little introduction. They started out fronted by the flamboyant and talented Freddy Mercury. Following the sad passing of their iconic lead singer in 1991, Queen continued the proud tradition of bringing their hard-pounding, soulfully imbibed music to audiences around the world. Known for their philanthropic work with "Live Aid," they also perform regularly with the two original members of the group, Brian May and Roger Taylor.
Born in Midwestern Indiana, Adam Lambert needs little introduction to glam rock lovers either. His early years are filled with a multitude of performance accomplishments including musical theater, acting and of course, singing and songwriting. He got his big break with American Idol in 2009 singing the world famous "Rock with You" and "Bohemian Rhapsody," a song originally written, performed and made famous by Queen. Lambert's wild and outrageous glam styles have always attracted rock audiences, and his music remains as imbued with power as ever. His genre is a mix of pop, rock and electronic, all mostly with a solid dance beat that gets fans moving.
In 2011, Lambert joined in with Queen to become its temporary lead singer for the MTV Europe Music Awards. Since then, there have been many talks about live shows, and now it is a reality. They're here and ready to rock.
The Queen and Adam Lambert concert tour will include a date in Chicago at the United Center for one day only on June 19 and at the SAP Center in San Jose, CA on July 1. Queen concert tickets for the group with Adam Lambert as lead singer will also be available for dates in Dallas, TX; Houston, TX; Auburn Hills, MI; Philadelphia, PA and New York, along with several dates in Canada. In addition, the band will perform several dates in New Jersey, Massachusetts and Maryland to round out the tour. Fans who want to experience this unique live show need to get out and get their tickets.
This is not a long-term tour that gives people a lot of chances to see them together live. With only 19 dates spanning a few short months, the time to act is now, and the place to look for great Queen and Adam Lambert tickets is Top Notch Seats.
For more information and to purchase tickets for the Queen and Adam Lambert show, please visit http://www.topnotchseats.com/concerts/rock-pop/queen-tickets.html.
About the company:
Top Notch Seats specializes in event tickets, concert tickets, theater tickets and sports tickets in the San Francisco Bay Area. While other ticketing agencies are sold out, Top Notch Seats has the tickets fans crave. They also have Mountain Winery events tickets. As a Better Business Bureau accredited business, customers can rest assured that Top Notch Seats will provide valid tickets every time. Don't risk overpaying for fraudulent tickets from an unauthorized reseller. Top Notch Seats only sells completely authentic tickets.