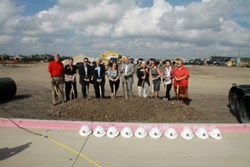 Campus President Kimberly Ranft says the students and staff are very excited for the school's next chapter.
Grand Prairie, TX (PRWEB) September 13, 2013
Concorde Career College's latest news comes from Arlington as the college prepares to provide students with a brand new campus in a new location. Concorde dedicates itself to fully preparing students for success in healthcare and realizes this success starts in classrooms and facilities that meet the highest standards and effectively contribute to students' education.
Throughout the years, the Arlington campus has experienced continuous growth and began to slowly outgrow their location. A couple of years ago, the Arlington location had the opportunity to expand into an annex directly across the street from the main campus. Now they, once again, find themselves pressed for space.
In order to provide room for possible course additions and make current conditions more conducive for learning, Concorde secured a new location and is in the early stages of construction on a building in Grand Prairie, Texas. This new facility will boast 50,000 square feet (almost 15,000 more square feet than the campus currently uses) and be a stand-alone unit built exclusively for Concorde. Approximately 10 miles from the current location, the new facility will have easy access off I-20 and Hwy 360. Completion is expected in January 2014.
Campus President Kimberly Ranft says the students and staff are very excited for the school's next chapter. The staff is looking forward to everyone being back under one roof while the students can't wait to see what the new building will look like.
Concorde is thrilled to be able to offer our Arlington students and staff a new place to grow and succeed.
Concorde Career College, Inc. has been training medical professionals for nearly 50 years. Concorde has 16 campuses in eight states and offers 100 percent healthcare education and training.
The Arlington campus offers careers in Dental Assistant, Vocational Nursing, Medical Assistant, Medical Office Administration, Surgical Technology and Neurodiagnostic Technology (AAS).
Those interested in learning more about career training or employment opportunities are encouraged to call 817-261-1594.