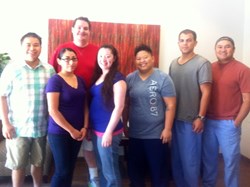 Concorde recognized the ever changing landscape of education.
Miramar, CA (PRWEB) October 10, 2013
Concorde Career Colleges believes in the value of education and the importance of providing students with the skills and knowledge needed to begin their careers. Concorde also recognizes the ever changing landscape of education and challenges itself to find new and innovative ways to learn.
Their newest partnership with Aegis Therapies, a nationally recognized leader in rehabilitation and wellness services, provides students the opportunity to receive an Occupational Therapy Assistant degree via distance education. Now, students in Fresno, California can attend Miramar's Occupational Therapy Assistant program by virtually connecting to Concorde's classroom and lab.
Concorde is honored to partner with Aegis Therapies in supporting students with their academic growth and career success.
Concorde Career Colleges, Inc. has been training medical professionals for nearly 50 years. Concorde has 16 campuses in 8 states and offers 100% healthcare education and training.
Those interested in learning more about career training or employment opportunities are encouraged to call 954-731-8880.
For more information about our graduation rates, the median debt of students who completed the programs and other important information, please visit http://www.concorde.edu/disclosures.