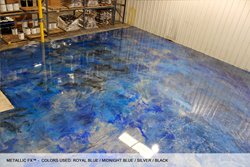 Bring Dazzle to your concrete floors with Metallic Epoxy Concrete Floor Coatings
Nashville, TN (PRWEB) March 27, 2015
SURFKOAT™ unveils new metallic concrete epoxy products. Garage and shop floors can look really worn and used after a while, but with SURFKOAT™ and their new metallic concrete epoxy products also known as epoxy concrete floor paint or epoxy concrete floor coating a concrete floor can be repaired and look amazing again!
Moving into Spring and Summertime a lot more time is spent in and around the shop or garage, so improving the appearance can easily be achieved with SurfKoat's concrete epoxy products.
SurfKoat's Metallic FX coatings will allow anyone to array the concrete to replicate the look of many shimmery patinas. The ability to achieve spectacular special effects with concrete floor coatings, stains, and dyes is nothing new, but now a whole new alchemy is available for adding that dazzle to concrete floors. The Metallic FX coatings will allow many options to "guild" concrete to replicate the look of Royal Blue, Midnight Blue, Silver, and Black, and other shimmery patinas. New metallic epoxy coating on any concrete floor gives it a whole new look and shows much care has been taken.
Some of SurfKoat's coatings contain REAL metallic powders, while others use special reflective pigments. The concrete epoxy paint is especially popular for floors in retail, office, and restaurant settings, where a modern, upscale look is desired.
Check out these new unique effects from SurfKoat's Metallic FX epoxy coatings. If you're a distributor, be sure to contact SurfKoat.com for adding these products to inventory. Be sure to look at the gallery on their site for all the array of options.
Tags: concrete epoxy, concrete epoxy paint, concrete floor epoxy, epoxy concrete floor paint, epoxy concrete floor coating
Website: http://www.surfkoat.com