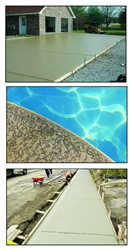 Voted Best Concrete Sealers, Trusted Epoxy Floor Coatings
Nashville, Tennessee (PRWEB) November 06, 2014
When finishing that concrete dream project plan to not just finish it, but to also use a concrete sealer. Protecting and properly maintaining that concrete surface with special concrete sealers will keep it looking spectacular for many years to come while extending its service life. Even if the concrete surface begins to show wear after years of exposure to traffic and the environment, it can often be restored to its original beauty with special cleaning, stain removal, and polishing products using SURFKOAT's concrete coatings.
SURFKOAT is proud to announce a new line of concrete sealer products, concrete sealers, concrete coatings for reinforcement in the battle against salt and water on concrete. These revolutionary new concrete sealer, concrete sealers, concrete coatings products offer a variety of concrete sealer finish options for new and old concrete. Repel Cure, Deco Guard, and Deco Guard Plus offer superior water repellency and protection from de-icing salts, salt water pools, and stains due to their proprietary chemical reactive water repellent chemistry.
Details for each new concrete sealer product are listed below.
Repel Cure

Chemical Reactive Water Repelling Cure
Use as cure & concrete sealer or on unsealed concrete.
Doesn't change appearance of concrete.
Great for driveways and sidewalks!
Deco Guard

Siloxane Infused Methyl Methacrylate
Meets cure & concrete sealer specifications.
Low Gloss, penetration & color enhancement.
Great for pool decks & courtyards!
Deco Guard Plus

Siloxane Infused Methyl Methacrylate
Meets cure & seal specifications.
High gloss and color enhancement.
Great for colored concrete!
SURFKOAT - Manufacturing of Concrete Floor Coating Systems
Surface Koatings, Inc. is an independently owned and operated professional concrete coatings manufacturing company that was formed in 2000 located in the Nashville TN area.
Surface Koatings, Inc. also offers a very attractive private labeling program, custom formulations and blends, and competitive toll blending operations. Learn more about their experience and dedication to customer satisfaction and how they vend their concrete coating products.
Surface Koatings powered by: GoHooper.com - Web Design Nashville