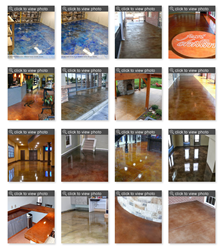 Surface Koatings, Inc. offers a very attractive private labeling program...
Nashville, TN (PRWEB) March 30, 2015
SURFKOAT.com a concrete stain & concrete floor sealer manufacturing company offers private labeling. With custom formulations, blends, and competitive pricing they carry a wide selection for private label inventory dealers.
Surface Koatings, Inc. is an independently owned and operated professional concrete coatings manufacturing company that was formed in 2000. With over 100 plus years of combined specialty coating manufacturing and formulating experience, their current product categories include but are not limited to; epoxies, polyurethanes, polyureas, solvent based acrylic concrete sealers, waterborne acrylic concrete sealers, water repellents, concrete acid stains, water based concrete stain, interior concrete dyes, exterior UV resistant concrete dyes, SP Systems sprayers, application tools and equipment, VOC compliant concrete sealers and coatings, coatings strippers, cleaners, etching solutions, chemical scents, industrial floor wax & polishes, concentrated color packs, liquid release agents, surface retarders, and form retarders.
Surface Koatings, Inc. also offers a very attractive private labeling program, custom formulations and blends, and competitive toll blending operations. They encourage anyone interested to contact them to learn more about how their experience and dedication to customer satisfaction can help to add to individual private label dealers. They have a fully trained and knowledgeable staff that offers excellent technical and customer support.
Dealers interested please contact them at the website below.
Company website: http://www.surfkoat.com
Tags: Concrete Stain, Concrete Sealers, Concrete Floor Paint, Private Labeling