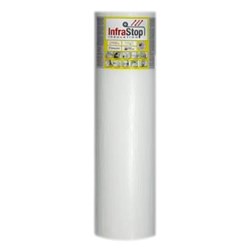 Latham, New York (PRWEB) October 31, 2013
Insulation Stop has supplied radiant barrier and reflective foil insulation nationally for over eleven years and is the exclusive distributor of InfraStop insulation. The addition of InfraStop's new under concrete insulation is a natural progression as the company continually seeks to offer the best and most innovative products to its consumers. This new product launch allows Insulation Stop to keep a competitive edge in a rapidly changing marketplace
"There is a misconception that foil insulation cannot work under a slab. The reason some people may think this way gets into the science of how the insulation works. Radiant barriers, in order to work effectively must have an airspace on at least one side of the product," stated Nick Semon, owner of Insulation Stop. "This means the sheet like radiant barrier products used primarily in attics would amount to nothing more than a fancy vapor barrier. But, reflective bubble insulation which is also a radiant barrier has thickness and trapped air. This thickness creates a thermal break which resists heat loss, making it an effective insulator."
"The InfraStop concrete insulation is specifically designed so that the foil layer is protected by a white polyethylene top sheet on one side. This ensures the reflective layer is protected from alkaline in the curing concrete. The other side is two layers of clear polyethylene bubble which protects the foil from any acidic soil conditions which could also corrode the foil layer."
"This is the principle difference between our products and competitive products. The InfraStop product is designed for under slab use. Other products offered are just standard products with the foil layer exposed and marketed as concrete insulation."
InfraStop's new product is also designed to improve slab response times in radiant heat projects and help prevent potential cold spots in the radiant heat system. As radiant heat is emitted in all directions from inside the slab, the downward portion passes through the white protective layer of the insulation and is absorbed by the foil layer. This foil layer acting as a conductor helps transmit the heat throughout the entire slab. The double layer of bubbles then work to hold this evenly distributed heat in the slab as opposed to losing it directly to the ground.
InfraStop concrete insulation is also a vapor barrier which eliminates the need for a plastic ground sheet while adding the benefits of a radon and methane gas barrier. It's flexible, rolled configuration allows faster installation times compared to other insulation types. This advantage is even greater when installing on an uneven grade.
For more information on radiant barrier and reflective foil insulation, please visit InsulationStop.com.
Nick Semon is owner of Insulation Stop. They offer individual and bulk orders of U.S. made radiant barrier and reflective bubble foil insulation products for commercial and residential use. The company is committed to offering extensive knowledge on the use and application of its reflective insulation products.