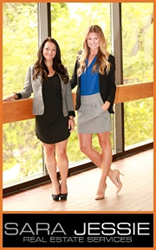 We're always thinking of new ways to provide world class service our clients and expand our clientele...
Edmonton, AB (PRWEB) June 25, 2014
Sara Jessie Real Estate Services continues to see great success as one of the leading real estate businesses in the Edmonton area, placing particular emphasis on assisting buyers looking for condos for sale. Having worked with developers for many years and selling over 400 properties, they are now growing at a rapid pace with a stress-free approach to examining real estate listings and finding the ideal property.
The Edmonton Real Estate market is booming; from buyers looking for the best condos for sale to new families seeking starter homes, Sara Jessie Real Estate seeks to provide individuals with a unique and diverse selection. The business prides itself in delivering the best real estate listing service possible—they believe the most important part of this service is promptly attending to their clients, and keeping them informed every step of the way, citing communication as the integral key.
"We're always thinking of new ways to provide world class service our clients and expand our clientele," says co-founder Sara Jones. "While we've been seeing great success with this approach, we are continuously seeking opportunities to offer even better experiences."
To better assist their current and prospective clients, Sara Jessie Real Estate maintains an up-to-date, informative website. With a navigable layout and useful content, visitors can quickly see the faces of the business, creating a more personal impression and professional relationship. Though many of Sara Jessie's clients are word-of-mouth referrals, Sara Jessie TV has been utilized as a marketing tool to educate new prospects. From featured videos such as "8 Tips For Buying Your Dream Home" to "5 Mistakes Sellers Make," each clip is practical and helpful allowing for a better experience in everything from locating condos for sale to selling a home.
To further better service clients, Sara Jessica Real Estate offers a comprehensive 10 Step Custom Marketing Formula. This involves home staging, professional photographers, custom online profiles and more. Sara Jessie Real Estate is also heavily involved in the community; a portion of each sale goes to Stollery Children's Hospital Foundation.
About Sara Jessie Real Estate:
Sara Jessie Real Estate was formed with solid customer service principals on a sound foundation: to bring passion to the Edmonton real estate market. Aside from possessing extensive experience in the field, Sara Jones and Jessie McCracken are deeply committed to making selling and buying Edmonton property a seamless, positive experience. Together, they have closed more than 400 real estate listings in the Edmonton area.
Related Search Phrases:
[Condos for Sale] [Real Estate Listings] [Sara Jessie Real Estate Services] [Breaking News] [Edmonton Real Estate News] [Alberta News] [Real Estate Services] [Real Estate Agents] [Sara Jessie TV]
Related Hashtags:
#CondosForSale #RealEstateListings #BuyAHome #RealEstate #BreakingNews #Edmonton #SJTV #SaraJessie #Condominiums