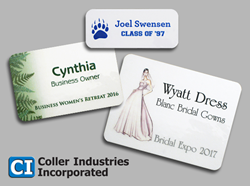 Conference Name Tags assure that your event is well organized and branded. By doing this, it essentially guarantees a good impression.
SALT LAKE CITY, Utah (PRWEB) August 01, 2016
Coller Industries Incorporated [dba Name Tag, Inc.] announces the latest innovation in personal identification. Conference Name Tags are a great addition to all of the personal identification solutions offered by Name Tag, Inc. as they provide an easy and affordable option for identification at conferences, conventions and other meetings.
Most conferences and conventions require that attendees wear some sort of personal identification. This identification can be anything from an adhesive name badge to another form of ID hanging from a lanyard. Each product has its own merit and uses, but Coller Industries is introducing a new way to provide the necessary identification for attendees, staff and others at events.
Conference Name Tags are not only affordable, but are easy to use and provide this necessary identification for attendees and staff. Each name tag is custom made to meet the needs of the convention or conference where they will be worn. Not only are these tags easy use and give out, but they come print-ready. Simply order the name tags with your logo and add names at a later point with a permanent marker. And reordering is fast and simple with a quick turn-around.
With full color printing, logos and graphics may be added to help with conference or corporate branding. Other features, such as printed names and/or titles, can be added as needed. Each conference tag is printed on a heavy card stock for durability and then sealed with lamination. This provides a professional, finished look for the name tags. Conference Name Tags come with several fastener choices. Much like other name tags, use magnetic fasteners, swivel bulldog clips or even pins. A hole can be punched into the top of larger tags so that they can hang on lanyards.
Learn more and view the entire name tag collection at http://www.nametag.com.