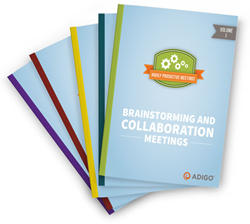 We've had a terrific response to these free guides by the community. They put the best tips on leading better meetings, right at their fingertips . Brad Volin, President of Adigo
Denver, Colorado (PRWEB) March 18, 2014
Hosts of any meeting will now be able to lead with greater confidence and purpose. The Ultimate Library of Meeting Guides are designed to spark greater collaboration and participation among meeting members and realize more satisfying outcomes for all.
Each guide contains unique techniques and best practices from our research to overcome meeting distractions and challenges. They are laid out in an easy to use format to give leaders the best structure for each meeting type and to keep the meeting focused on what matters most.
Because there isn't a one-size-fits-all plan that can be applied to every type of meeting, these guides provide the optimum model for each. The ultimate library of leadership guides is made up of 5 volumes: Brainstorming and Collaboration Meetings, Client Update Meetings, Executive Team Meetings, Project Management Meetings and Staff Meetings.
Each guide is itself a separate PDF document. Also included in each guide is a unique checklist, key points to remember and a resource section for further discovery. These 5 must-have guides will help meeting leaders of all skill levels to become a more confident and empowered leader.
The guides are available here on the Adigo website: The Ultimate Library of Leadership Guides for Conducting Highly Productive Meetings!
About Adigo:
Adigo believes in making the world a better place by connecting people and ideas worldwide. We provide audio, web and video conferencing for businesses that need reliable, scalable collaboration tools.
We optimize configurations for each account so conference calls can start faster, run trouble-free and increase organizations' productivity. With Adigo, you get flexible conferencing features, enhanced functionality and superior international calling, along with a responsive and dedicated account staff.