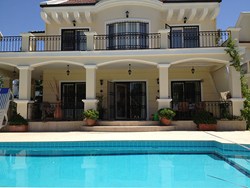 Turkey's recent demonstrations have contributed to a 'perfect storm' of preferable exchange rates for property investors to seize upon.
(PRWEB UK) 1 August 2013
Property in Turkey continues to prove an attractive prospect to foreigners despite the city riots seen in recent months, claim Oceanwide Properties highlighting latest housing sale figures.
The number of homes and land plots purchased by non-Turkish residents have doubled within the first six months of 2013 [source: Turkish Ministry of Environment and Urban Planning].
Oceanwide Properties additionally highlight that the Gezi Park protests in Istanbul and follow-on demonstrations in some of Turkey's larger cities have contributed to a 'perfect storm' of preferable exchange rates for property investors to seize upon.
Suleyman Akbay, Managing Director of the firm who exclusively specialise in property in Turkey, comments: "Despite the demonstrations that for a short time shook Turkey's rising star image, latest buying figures coupled with the feedback from our own sales applicants suggest investor sentiment remains positive.
"The Turkish Lira recently dropped to 2.95TL to the GBP, meaning homebuyers are in fact currently set to make better investments, saving thousands of pounds and stretching budgets further.
"Furthermore, anticipated interest rate hikes to bridge the Lira's drop is expected to add yet more value to bricks and mortar in Turkey, which is already being credited with providing the third highest property growth in the world [source: Knight Frank Global House Price Index]."
The firm, who have been marketing Turkish properties since 2005, attribute ongoing confidence to three factors:
Turkey's political situation is more stable than surrounding countries. Like many neighbouring nations, Turkey too has experienced political unrest but this has not been motivated by economic woes and their duration and intensity were much shorter, with its main popular tourist regions along the coast untouched.
Turkey's location is ideal - and not just for its sunkissed beaches and temperate climes. No, in terms of world travel Turkey is also well-placed to the extent that it was the sixth highest on international tourism arrivals chart last year. There's no sign of its popularity abating either which has prompted the government to build a new major airport in Istanbul and for local regeneration initiatives to keep resorts like Fethiye top for tourism. And tourism places demand on rental housing stocks.
New laws are making buying property in Turkey easier. Citizens of countries who in the past were prevented from owning property are making the most of a new law which opened up the housing market to them (previously Turkey only allowed residents from countries which allowed Turkish citizens to settle in their own land to invest).
Other incentives include automatic one year residency permits for foreign property owners and the rights of Turkish citizenship after five years. There are also suggestions that the unpopular military clearance requirement on property purchases is also to be scrapped, speeding up the sales process.
Buyers are advised to visit the Oceanwide Properties website to see the wide range of properties available at http://www.oceanwideproperties.co.uk.
ENDS
Notes to Editor

Foreign nationals acquired 7,145 pieces of land and property in the first six months of 2013 compared to 3,107 in the same period last year. [source: Ministry of Environment and Urban Planning]
Buyers are now from 88 countries compared to 55 in 2012: Brits are the second most prevalent non-resident purchasers, accounting for 720 sales in January to June 2013, surpassed by Russians with 1,388 sales in the same period.
Oceanwide Properties is a long standing member of the National Association of Estate Agents, the European Confederation of Real Estate Agents and International Real Estate Federation - UK Chapter (FIABCI). Operating since 2005, the company has offices in the UK and Turkey.