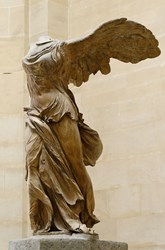 We are thrilled to support our wonderful Bay Area schools and love to create win-win possibilities. The students win by gaining the joy and serenity of a confident life, and each school wins by proudly displaying a statue of timeless beauty.
San Francisco, CA (PRWEB) February 11, 2014
Cream of the Crop Leaders is donating gorgeous, life-size classic statues to participating Bay Area schools and other qualifying institutions in commemoration of its new confidence course for young people, Cream of the Crop Kids. Everything is free of charge, including the statue, delivery and basic installation.
Each participating school can choose from eight stunning, hand-cast statues, including an 8 foot tall Nike de Samothrace (as seen at the Louvre and pictured), life-size Canova Lions and more. These statues add timeless beauty and inspiration to school courtyards, lobbies and auditoriums, and can be the springboard for important conversations and academic dialogue. For example, the Nike de Samothrace statue, modeled after Nike, the Greek god, symbolizes excellence, benevolent victory and a life fully lived; these are all Cream of the Crop Kids course goals. Recipient schools may enjoy creating lessons or even create essay contests related to their prized donated statues.
What is Cream of the Crop Kids?
Research shows that it's not those with the highest IQs but the people who radiate poise, exude confidence and "naturally" command a room who advance throughout organizations, achieve great success and attain overall well-being. Yet, the essential ingredients – the skills to exude confidence and proactively approach challenges – are rarely taught.
Cream of the Crop Kids is a highly-interactive, research-based workshop for young adults aged high-school to 25 years that teaches 2 critical skills:
1. Tricks-of-the-trade to exude an elegant and vibrant aura of outer confidence, despite fear, pressure or distractions. Contrary to popular opinion, confidence can be taught. Far from turning out cookie-cutter people, the practice of confidence skills has real, actionable implications: Research shows that exercises designed to change behavior actually re-shape the brain, and, most importantly, continues to change the quality of life. In sum, learned confidence habits become building blocks for authentic confidence and genuine long-term well-being.
2. Strengthen inner confidence even more through an introduction into Confidence Habits, research-proven methods that can lower anxiety, reduce depression, and increase authentic overall well being. Each participant will learn skills to closely examine and reverse personal thinking habits which create stilted dreams, mediocrity, anxiety and depression. Powerful research shows that optimistic thinking styles are positively correlated with reduced anxiety and depression, physical health benefits, improved academic performance and increased overall well-being.
History of Cream of the Crop Kids: Cream of the Crop Kids workshops are based on a class Sioux Messinger created and delivered to UCSF medical students (Messinger's course is one of the highest-rated elective courses at UCSF). While these medical students were brilliant, many lacked the skills to "pop" outside of themselves and share their gifts in a connected and radiant way. As a result, many were passed over for the best residency positions, and felt stalled early in their careers. Messinger found that just by teaching them tricks-of-the-trade for presenting with confidence, they actually became as happy as they were "pretending" to be. Of course, current research now proves this. Many adults believe that their lives may have been profoundly different if, as a teenager or young adult, someone had given them skills for presenting themselves in a grounded and radiant way.
Art in Schools Partnership program - How it works:
It's simple: Schools receive a statue based on the number of Cream of the Crop Kids participants that jot down their school name in the "Statue Recipient" section of their registration form. That's all. And, the threshold for participation is set generously low: It takes only 3 student nominations to receive a life-size Canova Lion, and only 5 nominations to obtain the stunning Nike de Samothrace.

There are eight magnificent statues to choose from (see brochure).
Each statue is lovingly hand-cast and glazed in the hue of each school's choice.
Organizations other than schools, such as youth and faith groups, may be eligible so contact Cream of the Crop Kids to find out more.
How do I start the process for a school I care about? Any school associate - including students, parents, faculty and alumni - can begin by sharing the Art in Schools Partnership details with the school of their choice and the larger local community. And it's easy to get the word out: share on Facebook, send an email blast, insert details in a school newsletter, put up signs in the hallway, or download a digital flyer from Cream of the Crop Kids.
Only 40 students will be served in the 2 general enrollment sessions offered (April 2014, and June 2014) though private sessions also create statue eligibility (instructor-schedule dependent).
Early registration discounts are significant.
For full participation details, see the FAQs as listed in the Art in Schools Partnership brochure.
IMAGES of Statues: See brochure using above link.
Over-25 Adult Course coming soon: Add a name to the no-obligation interest list.
For more information about the statues or about the courses, contact Cream of the Crop Leaders or Cream of the Crop Kids at 707-939-8181 or info(at)creamofthecropleaders(dot)com.