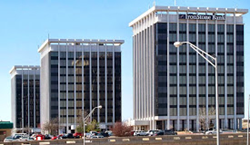 Seattle, WA (PRWEB) July 29, 2014
After an extensive search, Confluex chooses Landmark Towers in Oklahoma City, OK as its Midwest location for its employees living in the Oklahoma City metro area.
Paul Smith, Integration Consultant at Confluex, Inc. played a crucial role in securing this new space. According to him, "One of the main attractions of Landmark Towers is its location. It's a convenient commute for the Confluex employees and provides proximity to the airport and hotel accommodations for out-of-town co-workers."
"Though we spend the majority of our time working together virtually as well as on-site with customers, we wanted an office space for our employees when face-to-face collaboration is necessary." Erich Leipold, COO of Confluex.
The new office space is located at 3555 NW 58th Street, Suite 225-W, Oklahoma City, OK 73112.
About Confluex, Inc.
Confluex is a leading professional software consulting firm specializing in enterprise integration and automation of business processes. The Confluex team of Mule ESB Architects and Engineers and Agile Scrum Project Managers have successfully delivered Enterprise Integration, Legacy Systems Integration, SalesForce® and Force.com® Integration, API Development, Cloud Architecture, Agile Scrum Implementations, and Project management solutions to clients since 2006.
Confluex is a MuleSoft Strategic Partner using the MuleSoftTM ESB and MuleSoft AnyPointTM Platforms. As AnypointTM experts, they use the latest MuleSoftTM technologies to efficiently develop integrations for customers and solve integration challenges across a wide range of industries and technologies.