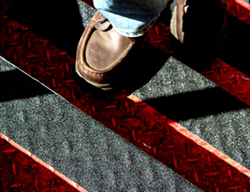 The Conformable Traction Tape is easy to apply, and helps prevent slip and falls on wet diamond plate
Cleveland, Ohio (PRWEB) May 11, 2015
The new Conformable Traction Tapes is perfect for applying onto an irregular surface such as diamond treads also known as checker plate or diamond plate. Diamond tread can be a very dangerous surface; it is potentially lethal when wet, creating a greater risk of slips. The levels of grip can also be very low; this is measured in Coefficient of Friction or (COF).
Standard grit tapes do not work, as the peaks and valleys stretch the plastic backing. Martinson-Nicholls new tape uses a soft aluminum foil base to ensure the tape conforms to the surface properly. Applying the tape requires a clean and dry surface, and then simply pressing the tape onto the surface aligning it correctly. Next a soft rubber mallet is used to hit the tape so it forms into the shape of the diamond tread pattern, reducing the chance of tears and material failure. Martinson-Nicholls Conformable Traction Tape page includes a video showing proper application.
According to company president Dan Ruminski, "The Conformable Traction Tape is easy to apply, and helps prevent slip and falls on wet diamond plate."
The tape's upper surface uses an abrasive mineral coat that provides Coefficient of Friction levels far in exceed any State or Federal requirement. Non-slip flooring requirements are required on the MIL SPECS MIL-17951, MIL-5044 & MIL-PRF-24667, OSHA and Americans with Disabilities Act 2008.
The tape is offered in black, yellow, or a black and yellow hazard chevron pattern.
Standard 60-foot long rolls are offered in 1 inch through 12-inch width. Martinson-Nicolls can also supply special widths from 3/4 inches up to 40 inches (black/yellow hazard chevron up to 20 inches). The company can produce any length (on request) from 5ft up to 300ft.
The company also offers die cut pieces suitable for quick application to steps, or in custom shapes. Custom conformable anti slip tape can be produced in colors and prints matching customer specifications.
About Martinson-Nicholls
Martinson-Nicholls, has established itself as a leader in custom anti-slip tape, floor mats, and eco-friendly products for more than 60 years.
Martinson-Nicholls provides the customer with the exact size matting needed--small, large, standard, nonstandard, special shapes and logos. Custom installations are also a specialty of the company.
Anti-slip safety tapes and treads are available in various sizes and textures from hand cut or die cut pieces to full rolls and special shapes. For more information, please visit http://www.floormat.com.